Mulumbu chasing one last bumper deal, says Clarke
Steve Clarke wants Kilmarnock fans to enjoy Youssouf Mulumbu while they can.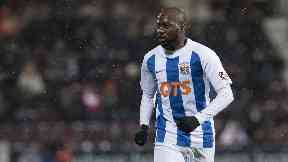 Steve Clarke has implored Kilmarnock supporters to enjoy watching Youssouf Mulumbu while they can as the midfielder is hunting for "one last bumper contract".
Mulumbu has repaid Clarke's faith in impressive fashion since the Killie boss picked the DR Congo international up as a free agent in November.
However, the 31-year-old's short stint at Rugby Park is due to come to a close at the end of the season when his deal expires.
Clarke remains hopeful Mulumbu may opt to stay in Ayrshire for another year but said he is fully aware Mulumbu is keen for a final lucrative payday.
Speaking ahead of Killie's game with Hearts, he told Press Association Sport: "I don't know if it's Youssouf's last game or not.
"I know he's loved his time up here in Scotland and he's been very important for us.
"But if a bigger offer was to come along and Youssouf thought it was a better offer then I'd expect him to move on.
"Youssouf has been good for us and we've been good for him as well.
"He's much more marketable than he was this time last year when he didn't have a club.
"We talk regularly. He probably says he doesn't get much sense out of me and I could say the same in return. "But we both know what's happening and he's very grateful to have had the chance to play here at Kilmarnock.
"He understands we've helped him a lot. He doesn't want to be disrespectful and say he's going to leave. "I do know that he is hoping something with a little more money comes along and he can get a chance to finish with one last bumper contract and we respect that.
"I said when he came that the Kilmarnock fans should just enjoy him while he is here and if they come along at the weekend they can enjoy him for at least one more game."
On-loan Newcastle defender Stuart Findlay is yet to decide whether Sunday's season closer will be his final appearance in blue and white.
Findlay's St James' Park deal expires in the summer but the youngster has told Clarke he wants to keep his options open for the time being before putting pen to paper on a permanent move north.
Clarke said: "Stuart's in a good position. He's out of contract in the summer. He and his agent want to see what the lie of the land is.
"I know Stuart's very happy here playing for Kilmarnock and for me. He feels he can learn here.
"Hopefully that's enough to persuade him to stay when he becomes a free agent."