Football Talk: Maclaren World Cup woe, Scots' oxygen tanks
Your daily round-up of what's happening across Scottish football and beyond.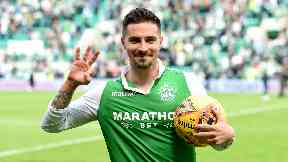 He took home the match ball after Hibs' 5-5 draw with Rangers, but Jamie Maclaren's impressive goal haul in the capital hasn't proven plentiful enough.
Despite putting himself in contention with eight goals in his last 13 matches for Hibs, Maclaren has suffered the agony of being cut from Australia's World Cup squad at the final hurdle.
Coach Bert Van Marwijk had included the 24-year-old in his preliminary squad of 32 but has now dropped the forward from his plans before the Socceroos head to a warm-up camp in Turkey.
Celtic's Oz star Tom Rogic will be in action in Russia, though, as will teammate Cristian Gamboa after his spot in Costa Rica's squad was confirmed.
While Rogic and Gamboa head for Moscow, Scotland's internationals are destined for Lima and Mexico City this summer.
The Scots are wary altitude may well become an issue on their travels.
Brazil made use of oxygen tanks during their World Cup qualifier against Bolivia, as the capital city La Paz lies more than 3000m above sea level.
Scotland's players won't reach such giddy heights in either of their two fixtures, but manager Alex McLeish said they may well follow Brazil's lead by taking on oxygen should any players suffer ill effects.
Elsewhere, Ireland's youngsters suffered international agony of their own as they were eliminated from the Under 17 Euros in bizarre fashion after their goalkeeper was sent off during the penalty shoot-out.
Top Stories
Best of Social Media
ICYMI
Back Pages