Rodgers: Celtic will face tougher test next season
Celtic boss Brendan Rodgers said he is targeting quality additions this summer.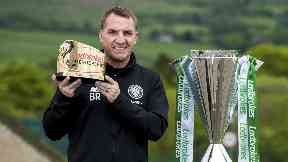 Celtic boss Brendan Rodgers insisted he expects the chasing pack to improve next season and said the Hoops must add quality this summer as a result.
Rodgers was named Premiership Manager of the Year on Tuesday after leading the Hoops to a second title since his arrival in Glasgow.
Celtic eventually finished nine points clear ahead of second placed Aberdeen, with Rangers third in the table.
Liverpool legend Gerrard will begin work in Govan next month as the Light Blues look to improve their fortunes, while Derek McInnes and Neil Lennon will revamp their squads over the coming months.
Rodgers said that whatever changes their rivals make this summer Celtic's objectives will remain the same.
On next season, he said: "I expected it to be tougher, whoever is in charge at Rangers.
"That's how football works, it gets tougher each year.
"That will be no different whoever was taken charge.
"The competition was always there and will be again next season.
"We have to improve again and we will do, both individually and as a team."
Asked if he expects Gerrard to narrow the gap, Rodgers said: "I've been up here a couple of years, it's a tired cliche about the gap.
"You can only, as a club, do the best that you can.
"The gap is whatever it is, you important thing is to win the league.
"When we go into next year it will be the same objectives, to improve and get better.
"It's a case of looking to build, there won't be drastic changes but we want to bring in quality."
Five key Celtic players have been left out of the Scotland squad heading to Peru and Mexico this summer.
Rodgers said "common sense" dictated that Leigh Griffiths, Callum McGregor, Craig Gordon, James Forrest and Keiran Tierney be left at home for the upcoming international double-header.
He added: "Common sense really, if you look at the players I wanted to keep they are the players who have played the most games for us this season.
"It's about trying to make sure Alex has the freshest Celtic players available."