Gerrard must be bold to succeed at Rangers, says Nicholl
Rangers' former caretaker boss said the club's new manager has a "massive responsibility".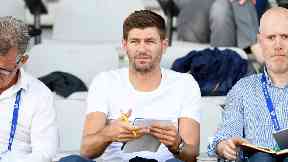 Former Rangers caretaker boss Jimmy Nicholl said Steven Gerrard's lack of managerial experience won't be costly as long as the Liverpool legend is decisive in his work.
Nicholl was brought in as Graeme Murty's assistant at Ibrox in January, before taking the reigns on a temporary basis towards the end of the season after Murty left the club.
The Northern Ireland assistant has now also departed the Light Blues after Gerrard decided to bring in his own coaching team from Liverpool.
Gerrard will make his first steps into senior management at Ibrox but Nicholl does not believe the Liverpudlian's inexperience is a disadvantage as long as he is willing to make bold calls.
"It's a massive responsibility being a manager of a big club," Nicholl said.
"Even now with the Rangers-Celtic thing, because of Celtic and the way they are, all of a sudden that's all they say - 'You better make sure they don't do 10 (titles) in a row'. First of all they've got to get close to them.
"People say, 'How can you do that, he's inexperienced?' I don't go along with that.
"I was a player-manager at Raith Rovers at 33, I had players older than me in my team. I made mistakes. That was in 1990. Nearly 30 years later I'll make the same mistakes.
"It doesn't matter whether I'm experienced or inexperienced, it's about making decisions. If you're the manager of Glasgow Rangers it's about making hard decisions."
During his stint at the club assisting former development coach Murty, Nicholl said his eyes were opened as to the intense scrutiny a novice coach can face.
He said: "You're going to get a lot more criticism than you are the clubs I was working at previously.
"I knew that; it was just the sheer intensity.
"Years ago I was manager and I had a club car. It didn't have medium wave in it. I was getting slaughtered on the radio but I never heard it. It was a wee lesson to me.
"Because I never heard it, I was going into work no different. I told this to Graeme. Maybe you can't do it, maybe you've got to be tuned into what the media say, what the supporters say, it's up to you. We're all different.
"If Rangers won, I was happy. If I read the papers, listened to the radio or looked at social media, it was not going to make me any happier.
"If we got beat, I was a wee bit down. If I read the papers, listened to the radio, I'm going to be worse. So why would you want to make yourself feel worse than what you already are?
"You're the one that has to get the thing going. The manager has to pick the players up. It's a different responsibility as manager."
Gerrard is currently on a recruitment drive as Rangers look to overhaul their squad.
Nicholl said talent alone isn't suffice when faced with the expectation of pulling on a Rangers jersey.
He added: "It's great being cheered by 50,000 people but if things go badly, can you handle being booed by 50,000?
"There were players from League One, it turned out they weren't bad players but they were never in a position where they were getting booed by 50,000 people.
"Getting booed by 50,000...you need character to play at these places."