Stubbs: There's a good vibe about St Mirren right now
The club's new manager said it was the right time for him to return to the dugout.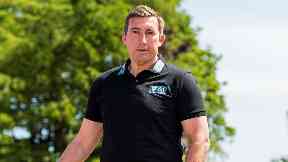 New St Mirren manager Alan Stubbs has said he had a positive feeling about St Mirren after initial talks and was taking on a job with potential.
Stubbs was appointed as Jack Ross' successor on Friday and will take charge of the Paisley side as they return to the Premiership.
The Liverpudlian has been out of the game since leaving Rotherham in October 2016. His time at the English club was short-lived and he confessed it had been a mistake to take on the role, saying it changed after he arrived and hadn't been a good fit.
As a result, he said he would have to have positive impressions before taking on a job and he had that feeling instantly at St Mirren.
"When I spoke to the board last week, we sat round the table and I answered questions, asked questions and I felt a good vibe from it," he said. "It's obviously a really well-run club.
"They're ambitious in terms of where they want to take the club and they're very realistic as well.
"I felt it was important that in my next job I worked with people that were good and I think they're very realistic in terms of what their ambitions are.
"You probably appreciate that when you've had a negative experience like Rotherham.
Before that, I had a fantastic relationship with Leeann and George and the board at Hibs and it's the one thing I think you appreciate more than anything. I feel as if I could replicate that relationship here."
Stubbs said he felt he was returning to Scottish football when the game was on the up and drawing widespread interest.
He credited the profile of coaches as being key to that rise, with Brendan Rodgers, Neil Lennon and Steve Clarke making an impact and the arrival of Steven Gerrard generating more coverage.
"I think the general consensus is that Scottish football hasn't been talked about the way it is now for a long time, a good number of years," he said. "You only have to look at broadcasters, the amount of airtime. Steven's profile has taken it on another level.
"Brendan obviously started it a couple of years ago and you have Steve Clarke coming in and doing a great job at Kilmarnock. And you have Neil Lennon going in at Hibs with Craig Levein at Hearts.
"You can go through them all and there's some fantastic coaches in the game now. What that does is it suddenly brings a lot more sponsors to the table that might not have been there before.
"When you negotiate the TV deal with BT and Sky you're talking about it from a completely different point of view now.
"There's a real clamour around the game. There's a buzz and you embrace that."
The 46-year-old now can't wait to get started and said that it was rare to get the opportunity to take over a club that has positive momentum.
"I think this feels right," he said. "I've been ready to go back in for a while and I'm ready now with the right club.
"It's obviously a privilege to be chosen to take the club forward. It's really whetted the appetite and I've got a real spring in my step knowing I've got a real challenge ahead of me.
"I want to carry on the good work that Jack has done here. Very rarely do you find that you walk into a job with a promoted team. We want to keep the feel-good factor going that's surrounded the club. There's a lot of optimism and excitement.
"The club feel they are back where they belong and it's up to us to make sure that we keep them there and progress the club over the next few years."
Download: The STV News app is Scotland's favourite and is available for iPhone from the App store and for Android from Google Play. Download it today and continue to enjoy STV News wherever you are.