De Bruyne: Belgium came through a test of character
The midfielder scored as Belgium beat Brazil to reach the World Cup semi-final.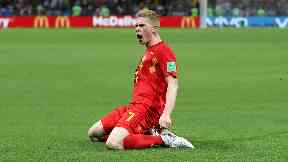 Kevin de Bruyne said Belgium came through a testing time against Brazil to reach the World Cup semi-finals and said his side would be an equal match for France in the last four.
The European side took an early lead when Fernandinho scored an own goal after 13 minutes and added some comfort when De Bruyne fired in a stunning second after Romelu Lukaku cut through the yellow shirts on a lung-bursting run.
However, Brazil pushed all the way and Renato Augusto's header 14 minutes from time set up a nervy ending. De Bruyne said that coming through it showed the nerve Belgium had, and that they had earned their reward.
"We switched things up tactically and I think in the first half we played very well, creating a lot of opportunities," he said.
"Brazil changed their tactics in the second half and were better [than us], but even then we created some chances.
"It was a test of character in the last 15 minutes and in the end we did enough to win the match.
"Now we face an extraordinary team in France but any time you reach the semi-finals of a World Cup, you know you're not going to face weak opposition.
"We're on an equal footing with them and we'll be doing everything we can to win."
Belgium boss Roberto Martinez said he was proud of how the players had executed their plan and dealt with the mental test of playing the South Americans/
"When you play Brazil, I think you need to get a tactical advantage," he said. "Against them, there's a psychological barrier - the yellow tops, the five world titles and everything that goes with that. So we had to be brave tactically.
"It was a big gamble to change things and we needed the players to believe. And today is not really about the tactics - it's about the execution of those tactics.
"There were a lot of threats to stop and Hazard and Lukaku gave us that with their positioning on the pitch.
"Today was about their mentality and I'm the proudest man on earth because I gave the players a very tough tactical assignment and the way they believed until the last second was incredible."