Rangers call for SPFL chairman MacLennan to step down
The league have rejected a request for an investigation into McLennan's appointment.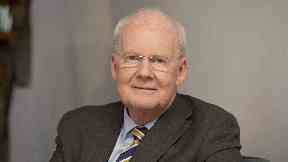 Rangers have called for SPFL chairman Murdoch MacLennan to quit his position after the league refused to investigate an allegation of conflict of interest made by the Ibrox club.
Rangers chairman Dave King had raised a potential conflict,pointing out that in addition to his SPFL role, MacLennan was also on the board of Independent ews and Media, which is partly owned by Celtic shareholders Dermot Desmond and Denis O'Brien. He called on the league to look into the appointment immediately and for the businessman to be suspended.
King said MacLennan's link with Desmond and O'Brien meant he had to recuse himself from meetings and his position was therefore not fit for purpose.
The SPFL has completely rejected the allegation, stating that no conflict exists, prompting fresh calls from Ibrox for MacLennan to leave his role.
In a statement on the club website, Rangers said: "Rangers has been informed that the SPFL Board has refused our request for an independent investigation into the circumstances surrounding the position and disclosure by its chairman, Murdoch MacLennan, of his appointment to the position of non-executive chairman at Dublin-based Independent News and Media (INM).
"It is common knowledge that INM and Celtic FC share two significant shareholders in Mr Dermot Desmond and Mr Denis O'Brien. Mr Desmond and Mr O'Brien each have the ability to appoint directors to the Board of INM. These directors are described in INM's annual report and accounts as not being independent.
"It is also clear that, as chairman of a company in the difficult position that INM finds itself, Mr MacLennan will be required to review evidence and materials relating to INM's dealings with its shareholders, including Mr Desmond and Mr O'Brien. Has Mr MacLennan notified the SPFL chief executive of this conflict? If the chief executive was notified, as he should have been, can he confirm why he did not notify the SPFL Board of this interest?
"It is surprising that Mr MacLennan does not recognise and acknowledge that there is clear scope for conflict of interest between the duties owed by him to the SPFL and its shareholders and the duties he now owes to INM and Mr Desmond and Mr O'Brien as INM shareholders. Under the present circumstances no SPFL club can be sure of being properly served."
The statement goes on to allege that MacLennan used "highly inappropriate language when speaking about Rangers while working in the newspaper industry" and said that the league should have investigated "in the interests of proper governance, transparency and integrity".
Following the league decision to reject Rangers request, the club said they were calling on MacLennan to stand down, saying it would be the "correct" and "honourable" course of action.