Sports Direct legal move could delay Rangers strip sale
Mike Ashley's company won an interim injunction at the High Court in London.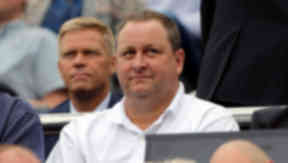 Sports Direct have taken Rangers to court and been granted an interim injunction that could delay the club from selling strips to supporters.

Mike Ashley's company raised legal action against the Ibrox club at the High Court in London last week, claiming that the terms of an agreement between the two parties had been breached.
Rangers and Sports Direct renegotiated the existing deal last year, with the Ibrox club paying the sports retailer £3m as part of the new agreement.
The deal is now set to expire and Rangers have lined up a new retailer to sell their kit. A three-year kit deal with Hummel is in place and though the team wore the new strips in the friendly win over Bury on Friday, fans are still unable to buy replicas.
Sports Direct argue that under the existing contract, Rangers have to offer them the chance to match any offer from a third party. That could be for all of the club's retail or just specific parts, such as replica kits.
Both sides made initial presentations to the High Court of Justice on Monday, where Sports Direct asked Mr Justice Bryan to put an immediate stop to Rangers striking any new deal with another company. He granted an interim injunction until Tuesday, when both parties will make more detailed arguments.
Rangers chairman Dave King had made a renegotiation of the retail deal a priority after taking over at Ibrox and hailed last year's new agreement as a positive move by the club.