SPFL stress 'overwhelming support' for chairman MacLennan
The league have rejected a request for an investigation and consider the matter closed.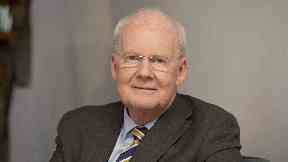 The SPFL has reiterated its "overwhelming support" for chairman Murdoch MacLennan after calls from Rangers for him to step down.
On Saturday, Rangers called for SPFL chairman Murdoch MacLennan to quit his position after the league refused to investigate an allegation of conflict of interest made by the Ibrox club.
Rangers renewed their complaints over MacLennan's chairmanship of a company part-owned by Celtic's biggest shareholder, Dermot Desmond, but the SPFL has stated that it views the matter closed.
The SPFL, which previously released lengthy defences of MacLennan, issued a brief statement.
A spokesperson for the SPFL said: "We note the contents of Rangers' latest press release.
"The board has already made its strong and overwhelming support for the chairman very clear and we consider the matter closed."
Rangers chairman Dave King had raised a potential conflict,pointing out that in addition to his SPFL role, MacLennan was also on the board of Independent news and Media, which is partly owned by Celtic shareholders Dermot Desmond and Denis O'Brien.
He called on the league to look into the appointment immediately and for the businessman to be suspended.
King said MacLennan's link with Desmond and O'Brien meant he had to recuse himself from meetings and his position was therefore not fit for purpose.