Dave King on transfers, Takeover Panel and SPFL chairman
Rangers' chairman spoke exclusively to STV on a range of Ibrox matters.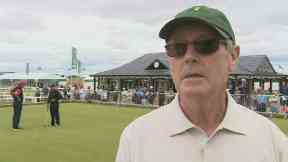 Rangers chairman Dave King spoke exclusively to STV on Tuesday about a range of matters, including his ongoing battle with the Takeover Panel and future transfer activity at Ibrox.
The Light Blues chief said he has agreed to make an offer for the remainder of the club's shares.
King also reaffirmed his stance over Murdoch MacLennan's position as SPFL chairman following his reelection on Monday.
On matters on the pitch, King said he expects two more signings to arrive at Ibrox, and said he believes the Light Blues will be more competitive under new manager Steven Gerrard.
On Rangers' season ahead
King said he is hopeful Rangers will prove a more competitive force under new manager Steven Gerrard.
The Ibrox side finished 12 points adrift of champions Celtic last season, and three behind second placed Aberdeen.
However, having overseen a coaching staff and squad overhaul over the summer, King expects Rangers to run their rivals closer this time around.
He said: "I feel there was some progress last year in terms of the team's performance, even though it was still quite disappointing.
"We finished top scorers in the league which is obviously quite a big improvement.
"The gap between ourselves, Celtic and Aberdeen narrowed quite a bit so as much as we were all disappointed there were still a lot of positives.
"I think the big challenge this year is to both improve the squad, which we've done, and I think we now have a management team that's likely to be much more stable.
"Obviously, that's been an issue over the last couple of years.
"Hopefully, we now have a defence that will concede fewer goals so I'm looking for us to be a lot more competitive this season."
I would like to think that we would be more competitive in the league and certainly run it a lot closer.

Dave King
Asked what would constitute success, he added: "I think we've got to compete for leagues.
"Rangers, very often, in prior years were maybe the best team in Scotland but didn't always win the league but you've got to be able to compete for the league.
"Obviously, winning would be ideal and is what the club is really about.
"But, season-by-season, I would like to think that we would be more competitive in the league and certainly run it a lot closer toward the end than we did last season.
"The fact Celtic have still got an established squad and they still have access to the Champions League money, it gives them a clear player and financial advantage but having said that I think with some of the changes we've made we could be competitive this season."
On transfers
Rangers have recruited ten players already this summer but King said the Light Blues' transfer activity isn't over yet.
The Ibrox chairman expects another two players to arrive in Govan, with two current squad members heading in the opposite direction.
He said: "I think we could probably see another couple coming in and possibly another couple going out just depending on what happens with the English window coming up.
"We've certainly added a lot of players and got some away as well but I think the squad is looking more settled and balanced.
"There's greater quality and depth than we've had the last couple of years."
On his battle with the Takeover Panel
King said he has agreed to make an offer to the club's shareholders.
Last week, Lord Bannatyne concluded that the South Africa-based businessman should urgently press ahead with a bid to buy shares which remain outwith his control.
The share offer which King must comply with arises from a case which was brought before the Court of Session by the Panel on Takeovers and Mergers last year.
Asked if he was going do that, he said: "I've agreed to do it (make an offer to buy shares).
"The issue at the moment, from the takeover panel perspective, is that the funds I'm using are funds that are based in South Africa and the takeover panel want the funds relocated to London.
"I've got to go through a process with the exchange control, it's just a factor of living in South Africa, we have exchange controls. I'm going through the process at the moment"
Last week King described a move by the Takeover Panel to initiate contempt of court proceedings against him as "bullying".
The Rangers chairman holds no concerns over the prospect of facing a contempt hearing, however, and insisted he is doing everything he can to conclude the issue.
Asked if he was concerned by any contempt case, he added: "I'm certainly not in contempt of court because I'm doing everything I possibly can.
"The takeover panel made a ruling.
"That ruling if made to a British resident would be easier to comply with but the fact is I live in South Africa, I've been there forty years and I'm bound by their laws.
"In order to transfer that amount of money out of the country you need that exchange control approval and you have to apply for that.
"You can't just spirit the money out of the country.
"It takes time but I think we'll get there."
On his calls for the SPFL chairman's suspension
King has reiterated his stance after calling for SPFL chairman Murdoch MacLellan to step down over a potential conflict of interest.
The Rangers chairman's calls were dismissed at Hampden, with MacLellan reelected as chairman for the season ahead on Monday.
Alongside working for the SPFL, MacLellan is also on the board of Independent News and Media, an organisation partly owned by Celtic shareholders Dermot Desmond and Denis O'Brien.
"I just think his position is awkward," said King. "We can't control his election but certainly there is a clear conflict in terms of the work he is doing for two of the major shareholders in one of the other clubs in Scotland.
"It's a conflict position and it's going to be interesting to see how he handles it when sensitive issues come up throughout the season.
King continued: "He's been elected and I think it's really up to him to a certain extent, he's a professional person.
"I think he should clearly understand where potential conflict arises and hopefully he'll handle it in a professional manner.
"It's something we are concerned about and it's something we'll continue to watch but it's really more how he responds to that and how he deals it.
"We'll just be watching that situation carefully."