Rodgers expresses frustration as McGinn holds Villa talks
Celtic have turned down a bid from Fulham for Dedryck Boyata.
Brendan Rodgers expressed his frustration at Celtic's failure to get a move for John McGinn over the line but refused to give up on signing the Hibs midfielder.
McGinn held talks with Aston Villa on Tuesday after permission was granted by the Easter Road outfit.
Celtic have had three bids rejected for the Scotland international.
Asked if his interest in McGinn was over, he said: "No, it's not. He's a player we clearly wanted to bring here, he's a player from a few months back I was really interested in bringing in.
"But we haven't been able to complete a deal and when you don't complete a deal for a player it opens the door for other teams.
"Aston Villa are clearly interested in him and have a big history of their own, a great club with excellent facilities and now financial backing. So we have to wait and see on him."
Dedryck knows where he is at, he knows he is in the final year of his deal.

Rodgers on Boyata
Celtic, themselves, have turned down an offer for Belgium international Boyata from the Cottagers, who like Villa are rushing to push through deals before Thursday's early English transfer window deadline.
Having rebuffed Fulham's offer for Boyata, the Celtic manager now expects to hold onto one of his prize assets as he would be unable to find a ready-made replacement.
Rodgers, who confirmed the former Man City centre-half will miss the first leg against AEK Athens as he returns to fitness, said: "We've had a few enquiries for him and there was a firm bid by Fulham for him but he's a player we don't want to lose.
"He's in the last year of his deal, he's been a fantastic player for me, he's had an excellent World Cup and, very clearly, he's a player of value.
"He's very important so the club rejected that.
"At this stage, it would be pretty difficult for us to sell him because there isn't a replacement there.
"If you lose someone of that quality, the very least you need is someone of similar quality coming in and that's not the case at the moment.
"Dedryck knows where he is at, he knows he is in the final year of his deal.
"He's a very honest boy who will give everything whilst he is here and then we'll take it from there."
Asked if a huge bid would see the business-side take precedence, he added: "It's something we would always speak about.
"From the business side and from the football we look to make that work. Ultimately, from the football perspective, we don't need to sell.
"We've had two seasons of Champions League football and are on a high, so I would anticipate anything that would come in would be rejected."
Rodgers on recruitment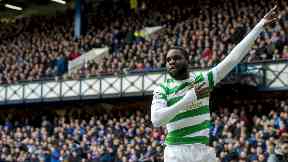 Rodgers said he "doesn't want to wait" for more signings to arrive at Parkhead this summer.
So far this summer Celtic have only signed one player, with forward Odsonne Edouard making his move the Glasgow a permanent one for a club-record fee.
Bids for McGinn have been turned down, while Rodgers is still waiting for a move for Aussie playmaker Daniel Arzani to be finalised.
Midfielder Stuart Armstrong has left for Southampton, while winger Patrick Roberts returned to Man City at the end of his loan deal.
On recruitment, Rodgers said: "We want to bring quality players into here, our job this year in terms of bringing players in was pretty straightforward.
"We only wanted players of quality, we re-signed a player in Odsonne which was a no-brainer.
"We've got one player in and there are a few other positions where we wanted to increase the quality of our squad.
"Thus far, we still have work to do on that. As a football manager, you want them in sooner.
"I can only identify the targets and then we wait, that is all we can do."
He continued: "We don't want to wait. We need to keep improving and that means signing quality.
"It was important we kept ahold of players like Tom Rogic, but running alongside that is strengthening with quality.
"That is something we need to do and I hope we can do. You need to strengthen when in a good moment.
"Over the last couple of years we've lost players and the bare minimum you need is to replace that.
"We've lost Stuart Armstrong and haven't got a replacement yet, Patrick Roberts has gone out and we haven't got a replacement yet. These are areas we need to complete deals on and get that support into the team."