Ouzounidis: We know Celtic Park won't be Paradise for AEK
The AEK Athens boss says his players will be able to handle an intense atmosphere.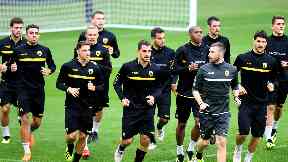 AEK Athens boss Marinos Ouzounidis has said that he's anticipating a red-hot atmosphere when his side face Celtic on Wednesday, but says the layers can handle the heat.
The Greek champions have arrived in Glasgow for the first leg of the Champions League third qualifying round tie and Ouzounidis says they travelled with prior knowledge of Celtic Park's reputation. However, with Greek league fixtures having a reputation for being fiery affairs, he believes there will be no adverse effect from the home fans turning up the decibel level.
"I know they call Celtic Park a Paradise, but it will be a noisy Paradise," Ouzounidis said. "We know that it won't be a Paradise for us on Wednesday night.
"The atmosphere at Celtic Park is well known across Europe, but we will be ready for it.
"The players should enjoy the game. They should not be stressed out and give 100 per cent, do their best and play their normal game.
"Our players are used to the atmosphere when it is very noisy, it is like that in Greece with some of the big teams and big games. There will be a big crowd but we will concentrate on the game plan.
"The Celtic fans will shout for their team to win tomorrow night but we can't let that affect us. When we are in Greece, the same thing will happen. The crowd will shout for their team."
Ouzounidis and his players are preparing for their first competitive game of the season and the boss suggested that AEK are the underdogs in the tie.
"It is natural that Celtic are favourites," he said. "They are a huge club with big history and with a very good coach and they have been winning everything in Scotland in the last few years.
"They consider themselves a very good team and they have shown they can progress in Europe. They will hope to continue that success this year, so it will be a challenge for us.
"But we have come here to win."