Izaguirre: Tierney can become the world's best left-back
Emilio Izaguirre returned to Celtic on Friday penning a one-year-deal at the club.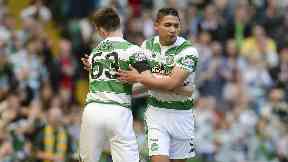 Emilio Izaguirre believes Kieran Tierney can become the best left-back in the world.
The Honduran rejoined Celtic on a one-year deal on Friday and is set to deputise for the 21-year-old defender across the season.
In his first stint at the club, Izaguirre lost his starting place to Tierney as the Scotland international established himself as the number one left-back under Ronny Deila.
Upon his return to the club, the 32-year-old said that Tierney has gone from strength-to-strength and is delighted with his progress.
He said: "I am very happy for him. I saw KT five years before he broke into the first team and I tried to help him every time. I learned from him and he learned from me.
"I am very happy because he is my boy. I always try to keep in contact with him through text.
"I am very happy about his progression. He is one of the best left-backs in the world.
"I saw him when he was a youth player training hard and professionally. He always wanted to be a big player. He needs to continue to work hard.
"I think he can become the best left-back in the world."
The Honduran won six league titles in seven seasons during his first stint with the Hoops.
After Celtic's invincible treble-winning season in 2016/17, Izaguirre moved to Saudi Arabian club Al-Fahya but struggled to settle.
He said: "I played a lot of games at Al-Fahya. I only missed two games due to national team games.
"I enjoyed the opportunity. For my family, it was difficult to be there. There are a lot of rules in the country. I have a wife and two kids and it was difficult to live in Saudi Arabia.
"It is a blessing for me to re-sign with Celtic. I want to thank Celtic, the gaffer Brendan, Peter Lawwell and all the staff for giving me another opportunity.
"It was difficult for me to leave last time because I wanted to play more football.
"But, I've learned this past year that I never really wanted to leave. Now, it is most important to help Celtic.
"I want to win every game. We are in all competitions, we have a big game next week.
"We need to win. Whether I play or do not play, helping Celtic is the most important."