Livingston announce closure of club's youth academy
The West Lothian club have opted to focus their resources on their Premiership campaign.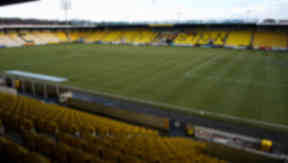 Livingston have announced that they are to disband their youth academy teams.
The West Lothian club have opted to focus their resources on the first-team's Premiership campaign.
The Livi academy has seen Scotland internationals such as Robert Snodgrass, Leigh Griffiths, Graham Dorrans and Murray Davidson all come through the system but the club lacked certain criteria to be included in the Scottish FA's academy structure when it was launched last November as part of Project Brave.
The club's chairman Robert Wilson said: "Livingston Football Club today took the strategic and financial decision to withdraw support for the Youth Academy Football teams.
"Project Brave has placed Livingston football club in the bottom tier of the new youth structure, with funding and governance requirements which make it impossible for the club to continue with its aim of nurturing young talent through top class competition.
"This has been an incredibly difficult decision for the club, but we have agreed that our focus must now be on the Premiership and the huge challenge ahead this season.
"We will of course continue with a reserve team which allow for players from 16+ years of age to participate, and thus providing opportunities for young players to progress to the first team squad.
"Livingston football club recognises the outstanding work of coaches Jimmy Dunn and Peter Main, the support from parents, guardians and friends, and the dedication of ambitious young players.
"We are committed to doing all we can to help coaches and players going forward by helping to place them with new clubs.
The Scottish FA issued a statement in response to Livingston's announcement.
The statement said: "The Scottish FA notes the course of action taken by Livingston football club to withdraw support of their youth teams.
"We appreciate that this will not have been an easy decision for them to make and that it will have a significant impact on staff and the young players involved in the respective age levels.
"Our overriding concern at this time is for the young footballers who have been affected by this change in Livingston's strategic direction.
"Clubs are invited to apply for the youth level they feel is most appropriate for them.
"Livingston applied for their place in the 'Advanced Youth' tier, which includes a level of funding consistent with that received before the introduction of Project Brave - honouring a Scottish FA commitment to member clubs.
"As their comments note, it is their right to reallocate funding to the first team in what is their first season back in the Premiership if they feel that is in the long-term interests of the club.@