Scottish FA buys Hampden from Queen's Park for £5m
International games and domestic cup finals to remain at national stadium in Glasgow.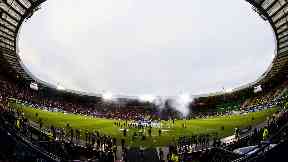 Scotland games and national cup finals are to remain at Hampden Park after the Scottish FA agreed to buy the stadium from Queen's Park for £5m.
The governing body was considering switching to rugby stadium Murrayfield when the Hampden lease expires in 2020.
But it announced on Tuesday that it has decided to stay put after a four-year review.
The Scottish FA said it intended to redevelop Hampden to "create a national stadium that will inspire the next generation of football fans".
It comes just hours after Scotland beat Albania 2-0 at the national stadium in the first match of their Nations League campaign.
Scottish FA president Alan McRae said: "Today's announcement has been the conclusion of a four-year process to review our national stadium beyond 2020.
"It was a hugely difficult decision and I would like to place on record our thanks to Scottish Rugby for their professionalism throughout the process.
"They made a truly compelling case to move to Edinburgh and gave us a very difficult decision to make."
Hampden is currently rented to the governing body - it's believed Queen's Park get £300,000 per year - and the Scottish FA's wholly owned subsidiary, Hampden Park Ltd, runs the stadium.
'It was a hugely difficult decision and I would like to place on record our thanks to Scottish Rugby for their professionalism throughout the process'

Alan McRae
League Two amateurs Queen's Park will now move to next-door Lesser Hampden after spending some of the sale fee refurbishing the stadium.
The club said: "Queen's Park welcomes the Scottish FA's announcement today, whilst acknowledging there are still many complexities to be worked out with various stakeholders.
"This will undoubtedly have huge implications for our club and our first priority is to engage with the club membership which due to confidentiality clauses we have been unable to do thus far."
With a capacity of just over 51,000, Hampden has hosted numerous domestic cup finals as well as three European Cup finals.
The stadium will also host three group stage games and one last-16 match at the European Championships in 2020.
Half of the £5m fee has been donated by Lord Willie Haughey, and the Scottish FA now wants to work with Glasgow City Council and the Scottish Government to raise money for redevelopment.
Mr McRae said: "This decision is about what was best for Scottish football and our members. It is about the future of football in Scotland.
"I would also like to thank everyone who has been part of this process and to recognise the enormous generosity of Lord Haughey.
"Finally, it has also been a hugely challenging time for Queen's Park, Hampden Park Limited and all of the people who will be directly affected by this decision.
"We appreciate all their efforts to reach an agreement today and look forward to working with them to shape the future and continue to develop a national stadium that we can all be proud of."
Scottish Rugby had lobbied hard to host football at Murrayfield, while a joint bid from Celtic and Rangers was rejected earlier in the year.
Scottish FA chief executive Ian Maxwell said: "I would first of all like to offer my thanks to Dominic McKay and his team at Scottish Rugby.
"They have been impressive throughout the process and I would like to continue to build that relationship. There is a lot we can learn from each other.
"Today is a big day for Scottish football. Hampden Park has been the spiritual home of Scottish football for over 100 years it has been central to our sport's identity in this country.
"But today's decision is about the future, not the past."
It later emerged that businessman Sir Tom Hunter was working alongside Lord Haughey in the purchase.
He said: "I'm delighted to be working with Willie for the good of the Scottish game."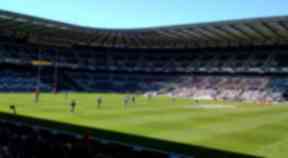 Rugby reaction
Scottish Rugby's chief operating officer Dominic McKay said: "Scottish Rugby would like to thank the Scottish FA for the opportunity to bid to host future Scotland internationals and cup final matches at Murrayfield.
"We submitted a compelling and thorough bid package which we believe would have been excellent for the Scottish FA.
"Our presentation clearly demonstrated the significant benefits of Scotland's largest stadium and how we have worked to develop a quality experience for all visiting fans.
"We are naturally disappointed the opportunity to develop a partnership for a true national stadium for Scotland at Murrayfield, which would have enabled the country's two largest sports to work side by side for the wider benefit of Scottish sport and society, has not been taken.
Stuttgart solution?
SFA chief executive Ian Maxwell said he was aware of the widespread criticism of the stadium as a football venue with the huge distance between the pitch and seats behind each goal a common complaint.
German outfit Stuttgart solved a similar problem at their stadium, in part, by building two new stands at each end amid a radical refurbishment and according to Maxwell, there is the, "possibility of that happening" at Hampden Park.
He said: "We are aware of the Stuttgart model, they have brought the ends in and that is something that we are absolutely committed to investigating as part of the wider development of the stadium.
"We need to speak to them, take advice from them and look at other areas of innovation that are around to see what we can do to enhance the stadium atmosphere.
"There is no doubt that Hampden needs to be improved.
"We are not going to hide from that, I am not going to hide from that.
"Whether that is outside the stadium in terms what we can do to enhance the pre-match experience, what we can do inside the stadium, what we can do from a seating perspective, this is very much part of a journey for the Scottish FA to make the Scottish national stadium the best it can possibly be and we are committed to doing that."
Download: The STV News app is Scotland's favourite and is available for iPhone from the App store and for Android from Google Play. Download it today and continue to enjoy STV News wherever you are.