Football Talk: Jones' 'mental torture', Lennon bans phones
Your daily round-up of what's happening across Scottish football and beyond.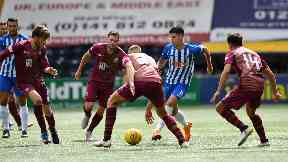 Jordan Jones' star has risen over the last year but the Kilmarnock winger isn't a fan of the transfer speculation that comes with his newfound notoriety.
After being heavily touted for a move to Rangers in the last two transfer windows, the Northern Irish international has opened up on the "mental torture" caused by being at the centre of consistent rumours.
Meanwhile, Neil Lennon has banned mobile phones at Hibs' training ground and the Easter Road boss is happy with the results.
While admitting his methods are a bit "old school", Lennon reckons the ban has helped create an "oasis" for his squad.
Elsewhere, Rangers looked set to face John Terry in Europa League action this season as the former Chelsea skipper weighted up a move to the Light Blues' group rivals Spartak Moscow.
But Terry has decided to turn down the move to Russia for family reasons.
Top stories
Back pages