Rodgers: Talented Arzani needs time to adapt at Celtic
Celtic manager Brendan Rodgers insisted patience is required after Daniel Arzani's move.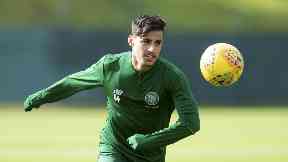 Celtic boss Brendan Rodgers has called for patience as Aussie prospect Daniel Arzani looks to fulfil his potential in Scotland.
The 19-year-old immediately joined the Scottish champions on a long-term long deal after signing for Man City in the summer.
But he is yet to feature for Celtic and is unlikely to do so in the imminent future as he gets up to speed.
Australia coach Graham Arnold jetted in for talks with Rodgers over Arzani and the Hoops' other Aussie players earlier in the week.
Rodgers said Celtic's job is to manage the expectation over a teenager hailed as "the next Harry Kewell" Down Under.
"Daniel hasn't played 90 minutes football, here or in Australia," he said. "This is a young player who burst onto the scene back home and is regarded as a talent.
"But he is very knew into his life as a professional and has just been with us for three weeks.
"It's the adaptation to a new country, new club, new football.
"It's just time, he's a talented young player and the idea with a talented young player is to go from a talent to a professional.
"It will be our job to manage the expectation, every young player in Australia they hope can be the next Harry Kewell.
"Harry was a special talent but Daniel is a young boy who has talent, over the coming years we will see if he the commitment to go with the quality he has."
Celtic visit St Mirren on Friday night as they return to league action following the international break.
The Buddies have switched managers during the pause, with Oran Kearney replacing Alan Stubbs in Paisley.
Rodgers - who expects Leigh Griffiths, Scott Brown and James Forrest to put pen to paper on new deals - holds sympathy with former Celtic defender Stubbs following his early sacking, but believes the job is a great chance for Kearney to prove himself.
He said: "I'm obviously very disappointed for Alan, I'd spoke to him here in the summer and when a manager loses his job this early you're never overly happy.
"For Oran, it's an opportunity for him. He's very clear and ambitious in terms of how he wants to work, I look forward to seeing him tomorrow night at the game and wish him well.
Rodgers on red cards
Earlier, Celtic goalkeeper Craig Gordon called for greater transparency within the Scottish FA's disciplinary system after a period of intense criticism for the national association and the disciplinary process.
Rodgers agreed greater clarity is required as incidents are currently open to interpretation.
He said "We've seen a number of incidents that have been up for debate so it would provide a lot of clarity if we know what the exact rulings were.
"It would be nice to know the panel, their thoughts and how they come to a conclusion.
"It's three former referees, you are purely seeing it from a refereeing perspective. Former players and managers can give other angles and you can then probably make a better decision."