Aberdeen want VAR trial after 'unacceptable' Devlin call
The Dons want greater transparency in the appeals process and VAR trials introduced.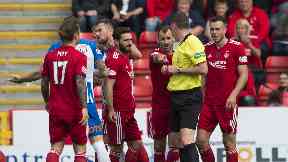 Aberdeen have called for VAR trials in Scotland after branding the SFA's explanation of their failed Mikey Devlin red card appeal as "unacceptable".
Defender Devlin was sent off after just four minutes as Derek McInnes' side lost to Kilmarnock before the international break when he hauled down striker Eammon Brophy.
The Dons believed referee Craig Thomson got the call wrong but the fast-track disciplinary panel felt "no clear error" had been made despite the Pittodrie outfit providing video evidence.
The panel reasoned "on a balance of probabilities, that the referee had not made an obvious refereeing error in concluding that the player's challenge on the Kilmarnock No. 25 (Brophy) was one where the latter was denied an obvious goal-scoring opportunity."
Aberdeen maintain their view Devlin shouldn't have been given his marching orders, though, and have voiced their frustration at the suspension.
A statement read: "Aberdeen FC finds the explanation provided by the SFA in relation to the Michael Devlin red card appeal unacceptable.
"The club maintains its view that the player was wrongfully dismissed, that the evidence presented was a robust defence and was overwhelmingly compelling in the player's favour.
"In light of recent decisions taken by the SFA, the club believes it is imperative for the country's football authorities to establish consistency and transparency in the appeal and referral process and will engage in dialogue with the SPFL in this regard to seek their assistance."
The Dons went on to push for VAR (Video Assistant Referee) trials north of the border if "stakeholders in the game are to regain trust in the process".
The statement continued: "Furthermore, at a time when technology is making a significant and positive impact across sport, the club believes that the impact of the VAR system trials in the English Premier League need to be considered if stakeholders in the game are going to regain trust in the process.
"AFC is aware that the views we have expressed are held by many who have found key appeal and referral decisions this year perplexing and want to see the governing body dealing with this proactively, with a consistent and transparent appeals process high up on the agenda.
"Doing so would enhance the game's integrity, greatly assist referees, improve the game for fans and, ultimately, the perception of Scottish football."