Gerrard: Rangers can do better than 4-0 victories
The Rangers boss wants more goals from his side after they hammered sorry Dundee.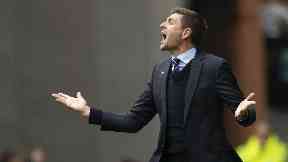 Rangers boss Steven Gerrard saw his players take Dundee apart at Ibrox and then told them he wants more.
The hosts were 4-0 winner with Lassana Coulibaly, Ryan Kent, James Tavernier and Glenn Middleton all on the scoresheet against a side that hasn't picked up a point in the league yet.
However, the manager said he wanted his team to be "relentless" and pile on pressure from a position of strength.
"We got an important win, four goals and a clean sheet," Gerrard said. "But it wasn't a great performance. It was good enough but we will play better than that.
"We have to play with more control. I want as many goals as we can get. I want to create a team that is ruthless and relentless and we weren't today.
"We deserve more goals. I don't just want to get a 3-0 lead and take the foot off the gas. If we want to be a successful team, we have to be at it all the time.
"I apologise if I'm not giving my players enough credit. I just us want to be consistent and strong. I just thought first half I was watching a game of basketball. That's not how I want it."
Gerrard picked out Coulibaly for praise on his return from injury and said he hoped he would be fit to face Villarreal in the Europa League on Thursday. And he said that fellow goalscorers Kent and Middleton had shown their qualities.
"Ryan was superb," said Gerrard. "That goal has been coming for quite a while. Hopefully it's the first of many.
"We've missed Lassana, his power, his energy, his tenacity. Hopefully we can use him again on Thursday if the fitness coach allows.
"And Glenn's in a really good place. He's knocking on the door for a start. He's still learning but there's still a lot more to come from him."
Beaten Dundee boss Neil McCann said that he would take responsibility for the pointless start to the season but that things could improve if the players find belief.
He said: "I don't mind pressure. I will take the heat.
"I don't chuck it, the players don't chuck it. We are playing with a lack of confidence just now but there is sparkles within games which gives me encouragement they are good enough to do it. They just need a wee bit more self-belief."