SPFL to speak to clubs over cup semi-final scheduling
The governing body has a fixture headache over the timing of the League Cup last four ties.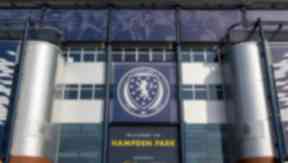 The SPFL is to speak with all four League Cup semi-finalists on Thursday as it looks to find a solution for its fixture conflict, STV understands.
The draw for the last four of the competition pits Celtic against Hearts and Rangers against Aberdeen with the semi-final ties scheduled for October 27/28.
However, Celtic and Rangers both have Europa League ties on the Thursday before the semi-finals, meaning whichever team was scheduled to play their League Cup match on the Saturday would have less than 48 hours rest.
A midweek card the following week makes it difficult for the tournament organisers to shift the dates, with one solution being to move a semifinal to Murrayfield so that both games could be played on October 28.
Any such arrangement would also need to suit broadcast rights-holder BT Sport.
After his team reached the last four with a 4-0 win over Ayr United, Rangers boss Steven Gerrard said that it would be unacceptable to ask either Celtic or Rangers to play their semi-final on the Saturday.
"Listen, whoever has to do that, it's not fair on any team, having played on the Thursday night," he said. "I'll be interested to see how they decide. All the best with that one.
"We'll deal with that when we have to. I'm not sure how they will select who plays when or what the rules are.
"Whoever has to do it, it won't be fair as 48 hours is not enough."