Dundee boss McCann left 'absolutely livid' by penalty call
Neil McCann fumed at 'a joke of a decision' after Kilmarnock's win at Dens Park.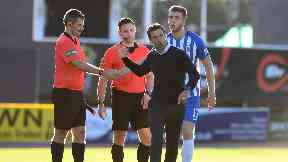 Dundee boss Neil McCann fumed at the decision to award Kilmarnock a penalty which ultimately won the match, saying he was left "absolutely livid" by the call.
With the scores level, referee Steven McLean pointed to the spot for a foul on Jordan Jones by Cammy Kerr and Eamonn Brophy stepped up to convert.
McCann labelled the penalty award a "joke of a decision" as he felt there was no contact on winger Jones.
The 2-1 defeat kept Dundee bottom of the table and McCann said: "I'm furious. I'm absolutely livid.
"We are told to watch our conduct at the side of the pitch, and it's a very emotional game we are involved in, management. We are told about our comments, how we conduct ourselves against the fourth (official), against the assistant, and the referee.
"Referees, I am told, have to be certain it's a penalty. You can't make that decision if you're not certain.
"And I've just watched it and there's no contact. It's a joke of a decision and it's a pivotal moment in the match, because again we have got to come from behind.
"It's changed the whole outcome of that game, because it's asked us questions against a very, very structured, well-organised side under Steve Clarke. And I'm not taking anything away from them, they defended well. But it helps their cause, and they set up on the counter-attack.
"But the decision is a disgrace and it's really hard right now to control my emotions.
"I went over to Steven after the game and told him that he has to be sure. He just looked at me and I said he can't be sure to make that decision. Because I am looking at that from 50-60 yards away and I can see Jordan has gone down.
"Now players can take a good touch in the box and they are waiting on contact, minimal contact, and they will go down. It doesn't take a lot. There is no contact.
"The defining point for me is he told boys in my team that he has taken a dive. And that's pretty sore to take.
"I asked the boy coming off himself. He just shook my hand, I shook his hand and asked him if he'd gone down, and he didn't answer me. But I don't know if he'd want to answer a manager.
"It's really sore just now and I've told the boys I feel sorry for them because it's a horrible position to be in."
Jones had earlier restored parity for Killie following Adil Nabi's opener for Dundee.
On the match-winning penalty, Rugby Park manager Steve Clarke felt the television footage was inconclusive.
"I have only seen the wide-angled look, the same look as I get from the bench," he said. "From the bench it looks like a penalty.
"People are saying there was minimal contact. If you are quick as Jordan, sometimes you anticipate contact as well, and people don't realise that, because not everyone is as quick as Jordan running with the ball.
"I have got to say, the referee wasn't too far away from the incident and he gave it without any hesitation.
"People are telling me there was no contact, but from the angle that I've seen, I can't say that."