Aberdeen's Milne calls for SFA summit to explain decisions
The Dons chairman says the game is being harmed by controversial calls by the governing body.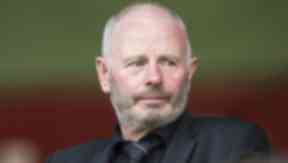 Aberdeen chairman Stewart Milne has called for a summit with the Scottish FA to discuss the decision-making at the governing body following a number of "controversial" recent calls.
Milne has asked SPFL chief executive Neil Doncaster, who is also on the Scottish FA board, to request a meeting with Hampden chiefs to "establish a greater understanding for all the game's stakeholders, including clubs, players, authorities and supporters, as to the process and decision-making procedures employed by the governing body, in the wake of several controversial decisions this season."
Aberdeen were unhappy last week when Scott McKenna was cited for a challenge on Odsonne Edouard that had been missed by the match referee. The defender was banned for two matches.
The club had also said that VAR should be considered in Scottish football after they disagreed with the sending off of Mikey Devlin earlier in the season.
Milne feels that controversial calls are damaging the national game and wants action to increase "transparency".
He said: "I very much feel there is genuine concern for the state of the game in Scotland at the moment. We simply must have consistency and transparency or we all, as clubs, the SFA and the SPFL lose significant credibility and risk losing the fans who have been baffled by several of the outcomes arrived at recently. Without supporters there is no game and they, as we all do, deserve far more clarity and transparency than we have at present.
"There are so many positives in our game right now, from a great crop of top-class managers, to a very competitive Ladbrokes Premiership and two cracking Betfred Cup semi-finals to look forward to, yet conversations and news headlines seem to be dominated the several controversial decisions that have been arrived at, and we're only just into October, without having a clear understanding of the process and the reasons these were arrived at.
"It's imperative that we get everyone with a vested interest together, sooner rather than later, in order that future decisions can be clearly explained to the fans who must always be the main consideration."