McLeish: There's no big issue with Leigh Griffiths
The Scotland boss says he respects the striker's decision to drop out of the squad.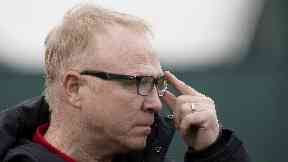 Scotland manager Alex McLeish has played down talk of a rift between him and striker Leigh Griffiths, saying he understands the player's decision to drop out of the squad.
Griffiths quit the squad on Monday, saying he needed to work on his fitness to be at his best for Celtic and Scotland in the future. McLeish misses out on being able to call on the striker for the Nations League match against Israel and the friendly with Portugal this week.
The forward had made it clear he was unhappy at not starting against Albania in the last game and the manager's comments suggesting Steven Naismith was in pole position to start against Israel led to talk of a falling out, particularly after McLeish revealed that Griffiths had ignored his phone calls.
However, he insisted that there was no serious issue between them.
"I don't [feel let down]," McLeish said. "Everybody has issues and you have to respect Leigh's decision.
"I'm not going to throw him under the bus, as such. He came to the games last time round and there was no animosity whatsoever.
"Yes, I can see in a player's body language when they don't like not playing. I could see that not only with Leigh Griffiths but a number of players. It's natural.
"I think it's big of him to say that he needs to get fitter to play at these levels."
McLeish revealed that he had discussed the decision with Griffiths prior to the announcement.
"He doesn't feel he's fit enough," he said. "I had a good chat with him on Saturday He's cleared things up with his statement."
The national team boss had faced criticism for failing to state that Griffiths would definitely return to the squad but he insisted that was because no player could be given assurances a place would be theirs regardless of form.
"You can't guarantee anyone," he said. "People will chastise me for saying I can't guarantee that Leigh won't play but I can't guarantee that anyone will play unless they're at a level that we want to be at.

"So everybody has got to prove themselves every week of their career. That's how I went about it and I would expect all the Scotland lads to do the same."