Celtic will prove critics wrong, says Callum McGregor
The Scotland international says Brendan Rodgers will stay and succeed with Celtic.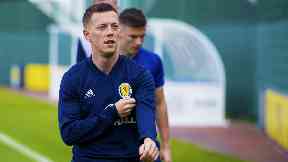 Celtic midfielder Callum McGregor says critics are out in force after the team suffered its first drop in quality but Brendan Rodgers will prove people wrong.
Rodgers has admitted that his team haven't been at the level they showed during back-to-back trebles, though they signed off for the international break with a 6-0 win at St Johnstone that leaves them three points behind leaders Hearts in the Premiership.
McGregor says people taking the opportunity to criticise the team haven't had much chance since Rodgers arrived at the club and will soon have to eat their words.
"Recently everybody has been giving us a bit of criticism and having a bit of a stab," he said. "That's because over the last couple of years nobody has been able to say anything about results or performances.
"So everybody is sort of coming for us a bit now. But we know the strength of our group and our manager and know that we can come out of this really well."
Rodgers has been linked with the Aston Villa vacancy but McGregor believes the manager still has plenty of work to do in Glasgow and that's good news for fans.
"When the criticism is thrown at the manager, it's in his nature to stay and prove people wrong," the midfielder said.
"You want a top manager running your team for as long as you can.
"For everybody at Celtic, be it fans or players, we want him to stay and we hope he does."