Gascoigne breaks silence over Scottish Hall of Fame snub
The ex-Rangers and England midfielder has hit back after his nomination was withdrawn.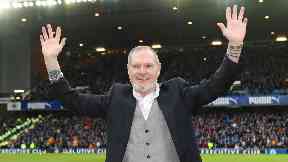 Paul Gascoigne has broken his silence over his Scottish Football Hall of Fame snub, insisting he doesn't need the acclaim to know he is "one of the best".
The ex-Rangers midfielder's nomination at the annual awards was withdrawn by the Hall of Fame over "ongoing enquiries and concerns over the state of Paul's health".
Since then the organisers have come in for criticism, with a number of ex-teammates amongst those to voice their anger over the move.
Gazza has now hit back at the Hall of Fame, insisting he doesn't need to be entered to know his standing in the Scottish game.
In a tweet, he said: "I played some of the best football of my career at Rangers and loved the support of the fans.
"I don't need to be in the Scottish Hall of Fame to be recognised as one of the best.
"I know I was one of the best."
In a second tweet, Gascoigne posted a video of the goal he scored in England's 2-0 Wembley win over Scotland from 1996, tagging the SFA's official account and adding the caption: "No hard feelings".