Rangers losses double to £14m after recruitment drive
Rangers International Football Club plc results saw revenues rise but wages also climb.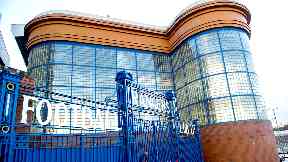 Rangers' net losses doubled last season after the club's recruitment drive under previous boss Pedro Caixinha.
The losses - revealed in the Rangers International Football Club plc results - increased from £6.7m to £14.3m after Caixinha overhauled the Light Blues' squad last summer.
High-profile additions to the playing squad saw first-team wages - for the year to June 30, 2018 - increase by £4.7m to £15.1m and overall staff costs surge to £24.1m.
Further expenditure came after the Ibrox board twice changed manager over the campaign.
Revenues were up to £32.6m, though, as season-ticket sales continued to rise.
The update also detailed Rangers' requirement for continued funding throughout the current campaign.
The club needs at least £4.6m by way of debt or equity funding before the end of the season, with the cashflow shortfall to be met by chairman Dave King's New Oasis Asset Limited group, the club's biggest shareholder.
King said: "On balance, the year to June 30, 2018, was a positive one despite the need for further change to ensure the progression that this Club requires both on and off the pitch.
"It was inevitable, given our dire starting position that vast amounts of money would have to be spent on rebuilding our facilities and the various departments within them.
Again we have had to reassess our team management structure and this of course means a further spend, from which we did not shrink and neither will we neglect the infrastructure, which accounts for a huge amount of our spending even if this work goes largely unseen."
Key figures (Until June 30, 2018)
Losses: £14.3m (2017 - £6.7m)
Turnover: £32.6m (2017 - £29.2m)
Staff costs: Up to £24.1m
Season ticket sales: 44,658 (2017 - 43,253)