Why Scottish football doesn't have strict liability rules
Questions have asked following the disorder at Tynecastle in the Edinburgh derby.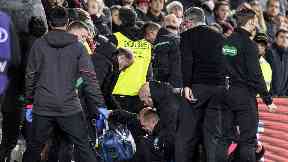 Since the final whistle blew at Tynecastle on Wednesday night, ending a night of incidents that brought shame on the national game, there's been an endless stream of debate about the circumstances that saw Neil Lennon, Zdenek Zlamal, Frank Connor and David McGeachie targeted by fans.
As people ask what happens next, who will be held accountable and how the ugly scenes can be prevented from happening again, the idea of strict liability for clubs has again been raised as a solution.
Currently, league and League Cup games are regulated by the Scottish Professional Football League (SPFL), with the Scottish Football Association (SFA) responsible for the Scottish Cup and for the game as a whole.
Neither operates a strict liability process for fan behaviour.
So what do the SPFL do about Wednesday night?
The league have already said that they will investigate the incidents once they have received their match delegate's report.
The rules
There are specific rules about unacceptable and disorderly conduct at matches.
Rule H25 states that : "A person present at or in a stadium where an Official Match is being played engages in Unacceptable Conduct where their conduct is violent and/or disorderly."
Rules H26 defines violent conduct: "Conduct is violent where there is (i) actual, attempted or threatened physical violence against a person or persons; or (ii) intentional damage to property."
However, the home club (in this case Hearts) will only be considered to be in breach of the rules if it fails to ensure "so far as is reasonably practicable": "Good order and security", "that policies and procedures have been adopted and are implemented to prevent incidents of Unacceptable Conduct" and "that any incidents of Unacceptable Conduct are effectively dealt with, all at its Stadium on the occasion of an Official Match".
And both clubs are expected to ensure: "Its players, officials, supporters and any person exercising a function for or connected with the club do not engage in Unacceptable Conduct at a Stadium on the occasion of an Official Match", "it identifies any of its supporters who engage in Unacceptable Conduct at an Official Match", and "it takes proportionate disciplinary measures in respect of supporters identified".
So as long as clubs do everything reasonably expected to prevent fan disorder, and deal with it to the best of their ability, the SPFL will not find them guilty of breaking the rules.
They may be charged and face a hearing but if clubs can show that they have procedures and are set up to prevent trouble as best they can then they have nothing to fear.
The Scottish FA rules are broadly similar for their cup competitions. It aims to make sure that: "A club shall take all such steps as are reasonably practicable to ensure the safety, good conduct and good behaviour of its supporters on any ground."
If a top-flight club fails in that responsibility it can face a fine from £1000 up to a maximum £1m and closure of their ground for cup games.
But neither imposes strict liability, holding the strictly liable for any unacceptable conduct by fans regardless of steps taken.
UEFA do apply that system and Scottish clubs have fallen foul of their rules many times in recent years.
Leagues across Europe follow similar rules but with variations.
As a thesis by strict liability expect Rosmarijn van Kleef notes, the French, Dutch and German leagues are among those that place responsibility on clubs to ensure order and security, though many make allowances if the right steps were taken to make risk negligible.
How could the rules change?
Change in Scotland would, effectively, have to come from clubs. Both the Scottish FA and SPFL are organisations run by their members and the will of the members would be needed to change the rules.
A proposal to introduce strict liability was tabled by the Scottish FA in 2013 and was defeated by members with clubs opposed to the idea that this was necessary or helpful.
Since then changes have been made to strengthen procedures and expectation to reduce the possibility of trouble.
The SPFL, composed of member clubs who are also part of the Scottish FA, could also change its rules if members backed reform but there has been no indication of that being likely.
In the aftermath of the Edinburgh derby, Craig Levein said that despite events, he was still opposed to strict liability in the Premiership and believed people were rushing to judgement in the heat of the moment.
The Hearts manager and director of football said: "There are idiots everywhere. It's very difficult to control 20,000 people.
"I'm not condoning anything but it's like most things: something happens and we go right to the other end of the scale. There's been worse situations in Scottish football.
"We just have to take a step back and consider the best way to deal with it, rather than everybody getting too excited."
Hibs head coach Neil Lennon said he saw no value in punishing the club. "I think it's very difficult," he said. "As I said after the game, and after the John Wilson [when Lennon was attacked in the technical area] incident years ago, I don't blame Hearts.