'Outstanding' Celtic could have scored more, says Rodgers
The Celtic boss said his side were "fantastic" in their 5-0 thumping of Hearts.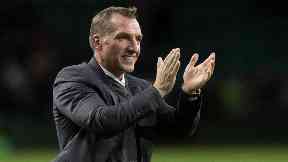 Celtic boss Brendan Rodgers has said that his players were "outstanding" in their 5-0 win over Hearts, and he believes they could have scored more.
The champions closed the gap on the league leaders to just a point with a comprehensive victory that saw Odsonne Edouard score twice and Filip Benkovic, James Forrest and Ryan Christie also find the net.
Celtic have now scored 13 goals over three games in the space of a week and Rodgers says they are hitting the level of performance that saw them win back-to-back trebles in the last two seasons.
He said: "It was a great victory for us in terms of a win and performance level, (it) was fantastic.
"The game today and this week showed the level these players have been at domestically for the last two-and-a-half years.
"We have taken hits in Europe and there is never a midweek when we don't have a game, but to keep coming back and having that hunger against a good Hearts team - Craig Levein has done great for Hearts and they have started the season well - we played really well against them last week and today we were excellent.
"We scored five and with a final pass we could have had more. So an outstanding team performance."
Rodgers singled out Edouard for praise, insisting that the layers' goals were only part of what he contributes.
He said: "The boy has scored consistently since he came here. It is not just that, it is what else he gives the team.
"He gives us so much and on top of that he presses the game.
"There is not a big demand from me to only score goals, he needs to press the game like I ask my strikers to do and from that we will always make chances and then it is up to him to take them."
Hearts boss Craig Levein took responsibility for the defeat, saying he misjudged the tactics.
He said: "The manager is an idiot.
"I thought with all the high-profile games we have had, I thought our energy level were beginning to wane.
"I made the decision to try to sit in, frustrate Celtic and hit them on the counter attack but I go that one wrong, eh?
"I done the players a disservice. I think we had more energy and once you set out that way it is very difficult to change it until you get to half-time.
"I felt much better in the second-half, I know we lost two goals but at least we were in the game and had opportunities.
"Put that one down to me."