Candeias yellow card case to be heard at Scottish FA 
Rangers are seeking to have the attacker's yellow card overturned at a Hampden hearing.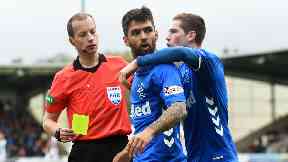 Rangers have appealed against Daniel Candeias' controversial booking that led to him being sent off during the win over St Mirren.
The winger, who had scored the opening goal in the 2-0 win, was sent off after being shown a second yellow card following Alfredo Morelos' injury-time goal.
Candeias was given his booking by referee Willie Collum after shrugging off St Mirren's Anton Ferdinand when the defender put him in a headlock and appeared to try and hit him on the chin.
The caution was recorded as being for "unsporting behaviour". Rangers were unhappy with the decision and manager Steven Gerrard said that the decision was "an embarrassment".
In general, yellow cards can't be appealed but an exception is made for diving or for cases of mistaken identity.
The rule states that: "A Claim may be competently made where it is claimed that mistaken identity has occurred relative to application of a sanction for any of the cautionable or sending-off offences listed in Annex C of the Judicial Panel Protocol".
However, the rule also says that: "A Claim on the basis of mistaken identity shall not be competent unless the player who is the true perpetrator of the offence is identified as part of the Claim."
Rangers have submitted their appeal on the basis that Candeias was the victim of mistaken identity on Collum's part and will make their case at a hearing on Wednesday.
Gerrard said after Saturday's match that his player was just freeing himself from Ferdinand;s hold.
"Daniel deserved his first yellow card," he said. "He was emotional and got carried away after scoring a goal.
"There was a coming together with Anton Ferdinand and he doesn't do anything other than try to get the man off."
The manager was then interrupted as footage of the incident appeared on the Simple Digital Arena media room TV and asked: "So Daniel gets a yellow card for that? Come on, lads. Be serious.
"The second yellow card is embarrassing. There is your evidence, that's what you're dealing with."