Levein criticises SFA over 'mass confrontation' charge
Craig Levein has criticised the Scottish FA's decision to charge Hearts and Hibs.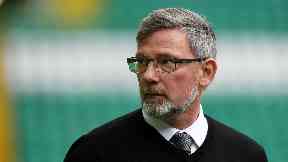 Hearts boss Craig Levein has bemoaned the call to charge his side and Hibs for a "mass confrontation" during the Edinburgh derby.
Both capital clubs have been hit with notices of complaint from the Scottish FA after two second-half flashpoints in the heated 0-0 draw.
Hibs striker Flo Kamberi was sent off for losing his cool during one of the incidents, which saw players from both sides clash.
Levein criticised the decision to reprimand the teams in the aftermath, insisting he is worried for the game if what took place at Tynecastle is seen as "mass confrontation".
He said: "I worry about the game when that is seen as a mass confrontation.
"People think players are robots and can control every emotion going but the whole idea of teamwork is to support your teammates.
"When I looked at that, particularly the first situation, I don't see anything in it.
"I see a lot of people in to break things up. In fact, I thought they were helping the referee.
"Listen, if the compliance officer wants to watch some games from the past then maybe she would recognise exactly what a difficult situation that is. But that was nothing.
"And I really worry if that is what is going to be seen as confrontational - for me, that's nothing."
He added: "We have to look very closely at whether people are being confrontational or actually trying to help.
"I certainly think those situations could have got out of hand had it not been for the players trying to calm it."
Levein hopes to have striker Steven Naismith back sooner than expected following his knee injury.
While the Scotland international and other key players such as Christophe Berra recover, the Jam Tarts manager said the onus is on the current group to hang onto top spot until their star men return.
He said: "You don't stay at the top of the league for as long as we have without deserving it.
"We've had a lot to contend with that are out of the ordinary and yet we've managed to stay in that position.
"The key for us is to try and stay out in front until we get our key players back as we should get a big boost from that."