Lennon: Mourinho antics reaction 'highlights hypocrisy' 
Neil Lennon said the reaction to his and Jose Mourinho's antics "smacks of hypocrisy".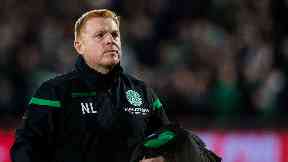 Hibs head coach Neil Lennon believes the differing reaction to his and Jose Mourinho's touchline antics "smacks of double standards and hypocrisy".
Manchester United boss Mourinho cupped his hand to his ear in front of the Juventus support following his team's late 2-1 victory in Turin on Wednesday.
One week earlier, Lennon celebrated Hearts being disallowed a goal late in the Edinburgh derby.
The Easter Road boss was struck with a coin shortly after.
Lennon said his mood had improved since the incident but bemoaned the narrative of the Scottish game given the gleeful reaction to Mourinho's actions south of the border.
He said: "I enjoyed Mourinho after the game yesterday, I knew exactly how he was feeling.
"But the reaction smacks of double standards and hypocrisy.
"That's where we are with the game up here sometimes.
"The reaction to Jose was "it's banter, it's fun, love it".
"That's the mainstream down there, up here it's goading, inciting violence, inciting a riot.
"We're human beings at the end of the day.
"There's a reason why Jose did it and I totally understand why he did it.
"The whole narrative is frustrating."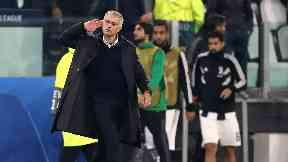 Rangers striker Alfredo Morelos was hit with a coin whilst celebrating his goal against St Mirren four days after Lennon was floored.
The Northern Irish coach called for the individuals responsible in both cases to be severely punished.
He added: "It's down to the individuals, hopefully they get them and they are punished severely.
"It has to be a deterrent, the punishment has to make people think I can't do stuff like that.
"The authorities should be doing more about it to come up with a solution.
"Is it worthy of a custodial sentence? Maybe.
"Taking away somebody's season ticket isn't enough, I don't think."
Hibs suffered defeat at home to St Johnstone last time out, with Lennon believing the Tynecastle controversy had caused his team to take their eye of the ball.
The ex-Celtic manager expects a response when the Edinburgh side face Aberdeen on Friday.
He added: "Aberdeen are formidable opposition so it's a good game for us to get our teeth back into.
"We were disappointing last week, I know the reasons why.
"It was down to me and all the external influences that maybe made the players lose focus and me lose a bit of focus as well.
"It's not a major problem, we've had a good week and a couple of chats about it.
"The players are raring to go, it was a very alien performance and I totally understand that, I have sympathy for the players.
"I'm sure they have the ability to bounce back quickly."