Ryan Christie is ready for 'strange' cup final reunion
The Celtic attacker says he owes Aberdeen for helping him to develop his career.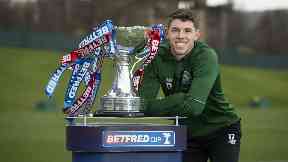 Celtic's Ryan Christie has admitted it will be "strange" coming up against his former Aberdeen teammates in the League Cup final on Sunday but is focused on lifting the trophy at Hampden.
Christie spent two loan spells at Pittodrie under manager Derek McInnes after signing for Celtic but returned to Glasgow to work on establishing himself as a first team player under Brendan Rodgers.
This season has seen him make the breakthrough at the champions and also step up to international honours. After helping his side to a 1-0 win over Rosenborg, he's now preparing to see familiar faces in another major game.
"It is a big week," he said.
"We wanted to get a win in the first game and we did that. Now it is the big one on Sunday.
"It will be a strange one coming up against Aberdeen if I do play.
"But everyone at the club wants to win trophies obviously and if we get one so early in the season we will be delighted with that."
The 23-year old said that he owed McInnes and the club for what he had learned in his time on loan.
"It was a huge for my development and my career," he said.
"When I went to Aberdeen it was the first time that I had a full season of playing and that really set me up for coming back to Celtic and having a stronger mindset and it made me stronger physically as well. I came back in better shape so I have to give a lot of credit to Aberdeen.
"I can't really say thank you enough to all the staff up there because I loved my time up there and as I said, it is funny how things work out and hopefully I will be playing them on Sunday."
For Christie's team-mate Filip Benkovic, the final gives him an opportunity to lift the fourth piece of silverware of his career. The 21-year-old, on loan from Leicester City, says a team effort will be needed for success.
He said: "It is a big game at the weekend and we can't wait for it because we know it is very important.
"I already have two championships and one cup medal. Nobody will be prouder than me to get trophies with this big club.
"It can be only a proud moment and I will give everything that I have to achieve this.
"We will give all we have and go for a win but the only way to achieve that is to play like a team."