Clarke: Talk about my Killie team, not our floodlights
The manager said his side were "terrific" in their 3-0 win over Hibernian.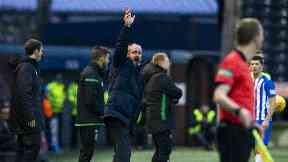 Kilmarnock boss Steve Clarke has said that he hopes his team's performance gets all the attention after a 3-0 win over Hibs that was interrupted twice by power failure at Rugby Park.
An Eamonn Brophy double had Kilmarnock in full control of the match before the lights went out twice in a stop-start second half and Greg Stewart completed the scoring in the final moments of the game.
Kilmarnock are investigating the reason for the power cuts but Clarke says the story of the day was on the pitch.
"Hopefully the performance will get more of the headlines than the lights because I thought we were terrific today, from start to finish," he said.
"I think there would have been a problem if the lights had gone off for a third time.
"When they go off you have to let the system cool and then trip them back in. I don't think the referee would have let them on again so the last 25 minutes were a little more nervous than usual."
The Killie manager had brought Brophy back into the starting line-up after injury and was delighted to see him score twice.
"It's always good when you get players back from injury," he said.
"We know Eamonn gives us a little bit more mobility up front than Kris (Boyd). Kris did a great job for us though and helped us pick up four points in big away games when he was in the team.
"At this stage of the season it's all about using your squad to its maximum. You saw that today. Rory McKenzie came in today after a spell out, ran himself into the ground and then at the right time Chris Burke came on and added that bit of quality that helped us get the third goal."
Hibs assistant Garry Parker couldn't find any positives to take for a difficult afternoon from his side.
He said: "We could have taken any of the players off at half-time and they couldn't have complained. It got slightly better after that but it still wasn't good enough.
"We got in behind them a couple of times in the second half but we failed to pick out the right pass. That's been happening for four or five weeks now.
"We came here to try and not lose and they scored straight away, so the game plan went out of the window.
"We know what the pitch is like but some of the players have got to look at themselves and do better."