Holt praises Livingston for playing to their strengths
The manager says the direct approach brought reward in the win against Motherwell.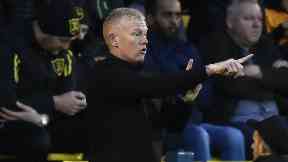 Livingston manager Gary Holt said their was nothing fancy about the 2-0 win over Motherwell, saying his team stuck to what they know they are good at.
Two set piece goals separated the sides at Almondvale, with Steven Lawless finding the net after an Alan Lithgow long throw, and Craig Halkett heading in from a corner in the final minutes.
Holt said the game plan had worked well, with his players showing a confident attitude.
He said: "I'm pleased with the way the lads applied themselves - they tried to entertain, they tried to win the game.
"That's the environment we are trying to set - go and win games, because the league is so tight.
"We tried to score goals and tried to get in areas where we could, and fortunately we had enough people in the box when the ball fell.
"We've got weapons we can use and tools in the tool box: Alan Lithgow's long throw. Use it in the right areas. And we got a goal off it.
"Set-plays, we've got people who are prepared to get hurt, so don't go away from that. Don't then play short corners and try intricate stuff when you can put the ball in the box. Today we got two good goals from it."
Motherwell boss Stephen Robinson was left to bemoan defensive mistakes and revealed that his players had been well warned about Livingston's strengths.
"What's disappointing is that we worked on it all week," Robinson said.
"They throw long balls into the box, they do it very well. We told certain people to mark a certain way. They didn't and runners go off from a midfielder, again.
"We got beat by that and a corner into the box that we made them very aware of. We simply got what we deserved.
"We didn't do the simple things well, Livi did that better than us.
"If Livi win, lose or draw, they do that every single week, and we didn't do that. We didn't pick up second balls, we didn't land on the ball and, when we did, we passed it out of play."