Scotland to face Belgium and Russia in Euros qualifying
Cyprus, Kazakhstan and San Marino have also been drawn in Scotland's Euro 2020 group.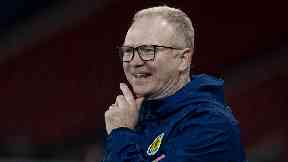 Scotland will face Belgium and Russia in their qualifying group as the national team aims to reach the 2020 European Championships.
Cyprus, Kazakhstan and San Marino were also drawn in qualification group I at the draw ceremony in Dublin.
The national team have already guaranteed themselves a play-off spot after finishing ahead of Israel and Albania to top their Nations League group.
Scotland is one of the host nations for the tournament, which is being held across the continent. Hampden Park will host three group stage matches and one last 16 game.
World Cup semi-finalists Belgium represent the toughest test for Alex McLeish and his players. Ranked as the best team in the world by FIFA, Belgium will be bringing superstars such as Eden Hazard and Kevin De Bruyne to Hampden.
Russia qualified for World Cup 2018 as hosts but went into the competition on a run of poor form. However, the team improved under the spotlight, reaching the quarter-finals and knocking out Spain on the way.
Cyprus are ranked 86th in the world and struggled in their World Cup qualifying campaign, winning only three games, two of which were against Gibraltar. Kazakhstan presents a long journey for Scotland but they will come up against a side that is ranked 120th in the world and has only beaten Andorra in competitive games in the last three years.
San Marino complete the group and have face Scotland this century, losing 2-0 and 4-0 in World Cup 2002 qualifying.
Qualifying matches will be held from March - November 2019 with the play-offs taking place in March 2020.