Pies and pyrotechnics: Falling for football at the Betfred Cup
STV's Steven Ladurantaye is new to Scotland and attended his first football game on Sunday.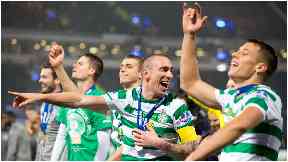 As a recent immigrant from Canada, Steven Ladurantaye struggled to appreciate Scotland's beautiful game from his television screen. Everything changed when he witnessed the passion and purity of the Scottish League Cup Final.
The media room at Hampden Stadium smells like steak pie. There's a steam table buffet and a cooler full of Irn-Bru. Most of the drinks are sugar free, despite the complaining you hear about the new recipe anywhere you go in Scotland. The media is treated well, but every press room has limits.
That makes the room much like any other you'd find in North America, where I'm more used to sitting in press boxes and waiting rooms.
But I've lived in Scotland for six weeks, and this is an unusual situation. I've never seen a live football match. Celtic vs. Aberdeen in the Betfred Cup isn't a bad place to start, particularly since it started with pie.
Many things are the same as they are in North America. Thunderstruck blares as the teams take to the field (which reminds me that I haven't been to Kirriemuir to see the Bon Scott statue yet). The air is smokey from pyrotechnics.
Reporters complain about the food, while cramming as much as they can into their mouths. Someone wearing a press pass snuck back into the media room after halftime and literally filled his pockets with meat pies - and then asked the staff where the vegetarian options could be found.
Twenty seconds into the match someone yelled "f**k off" at the referee - although it rhymed more with "dook" than it did with "duck."
But it's the differences that set this experience apart. Some of them are obvious - separating fans into their own sections, the chanting, the lack of beer, the absence of vendors walking up and down the steps with popcorn and ice cream.
North American stadiums are built to manufacture enthusiasm, to convince fans that it's OK to raise their voices or wave their arms in the air every once in a while. In my hometown, the NHL Ottawa Senators almost beg fans to make any sound at all with elaborate "noise meters" on the big screens and desperate calls to action from the announcers.
In the NBA - the showiest and most produced spectacle in sport - the "in-game experience" doesn't even wait for the play to end. Music blares as the players play. When they stop, it gets louder and half-dressed dancers try to get the fans to pay attention.
The Betfred Cup game was something different than all of that. The only manufactured moments were from players trolling for penalties, not "fan experience" directors hoping to build some atmosphere. The play never stopped for a commercial break, the fans sang and chanted on their own and knew when to clap without explicit directions on a Jumbotron.
There were some uncomfortable moments - a heavy police presence after a drunken fan stumbled around the field and continued to fight for his freedom for a full five minutes after they dragged him off, some ill-time firecrackers being set off as medical workers worked desperately on Gary MacKay-Steven after he smashed heads with Celtic's Dedryck Boyata.
But the purity of the fan experience is the piece I was missing every time I'd wonder why anyone watched the game. The game played live is not the game I've tried repeatedly to watch on television, before flipping the channel to a baseball game.
Of course, you already know this. But it's a revelation for an immigrant looking to understand his new country. I'm sure I'll get out to another game, and soon.
Now, I just need to choose a side to support. But I'm a quick learner - I'll be keeping that decision to myself.
Steven Ladurantaye is Head of News and Current Affairs at STV