Craig Levein: I'm done speaking to SFA refs' chief
The Jam Tarts boss said he was angrier now than he was after losing to Rangers.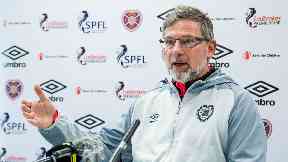 Hearts boss Craig Levein said he was "finished" speaking to the SFA's head of referees John Fleming after a "blatant mistake" cost his side dear at the weekend.
The Jam Tarts lost 2-1 to Rangers on Sunday, with Alfredo Morelos steering home the Light Blues' winner from an offside position.
After the match Levein blasted referee Bobby Madden's "abysmal" performance at Tynecastle.
Ex-grade one ref Steve Conroy hit back at the Jam Tarts manager's comments, insisting they were the latest example of personal attacks on match officials.
Levein, however, believes he had every right to vent his anger.
Speaking ahead of Hearts' trip to St Johntone, he said: "Looking back, I'm probably angrier than I was at the weekend.
"I'm angrier when you get ex-referees who come out and just talk rubbish.
"To say I made a personal attack on Bobby, I wasn't having a pop at Bobby's character - as a person he's a great guy.
"But as a professional performance, that's completely different and I think I'm entitled to do that."
When you look at that situation, how's it possible to get that wrong?

Craig Levein
Levein said he was told by the SFA head of referee operations Fleming to instruct his players to hold their defensive line on the edge of the 18-yard box in order to assist the officials on offside calls.
Morelos' Rangers winner came from a set-play when Hearts looked to follow those orders.
Levein continued: "All I'm asking for is for people to do their jobs properly, it has a huge impact on myself and my livelihood.
"The refs supervisor told us what we do, we did it and they still get it wrong.
"When you look at that situation, how's it possible to get that wrong?
"We've had another six of those that they've got wrong already this season.
"This isn't me for the first time, we've been talking about this situation and they are continually getting it wrong.
"What's the point? After that, I'm finished speaking to John."