Clarke: Nobody at Kilmarnock is getting carried away
The Killie boss saw his side move to the top of the table after beating Livingston.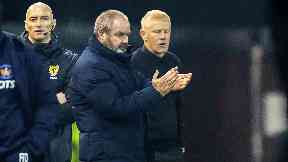 Kilmarnock manager Steve Clarke says he isn't putting much emphasis on his side being top of the table and says he'll judge success at the end of the season.
A Greg Stewart double saw off Livingston at Rugby Park and results elsewhere meant Killie jumped to the summit of the Premiership.
Clarke insisted nobody would get "carried away" with their league position but admitted it did show the players the reward for their efforts.
"I'm still trying to get over the second half, to be honest, because I thought we slipped out of the game," he said.
"Listen, it's nice for the supporters - they'll have enjoyed the night and looking at the league table but, for us, it's just another three points.
"It wasn't our best performance but it was a good win against a difficult opponent.
"I've got such an honest bunch that the feeling I got in the dressing room was that they were a little bit disappointed with their second-half performance.
"But they'll look at the table and realise that if you work hard and are a good group of players you'll pick up points in this league.
"And if you pick up enough points then sometimes you get quite close to the summit. But there's nobody getting carried away. We've got an awful lot of work to do.
"At the end of the season we can tally up the points and see who's where and decide if it's been a good season or not. But in December it's difficult to do that as there are so many games to come."
Livingston boss Gary Holt was left to rue his side's defending and had no arguments about the result.
"We're well known for scoring from set-pieces, but we lost the first goal to one and that was really disappointing," he said. "You look to people to do their jobs and go in where it hurts, but we let their man make the near-post run way too easily.
"As for the second goal? It comes from our free-kick and you can't defend that happening. It's just not good enough.
"But I'm the manager and I take responsibility for picking the team. I made changes to give a few guys their chance and they didn't take it."