Rodgers disappointed with Celtic's 'two points dropped' 
The Celtic boss said his side's performance wasn't at a high enough level.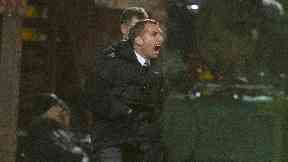 Brendan Rodgers said Celtic's performance disappointed him in their 1-1 draw at Motherwell and hinted some players had let an opportunity to impress pass them by.
The manager made seven changes after Sunday's League Cup triumph and Ryan Christie's goal had them heading for three points before Danny Johnson scored an equaliser for the hosts two minutes from time.
Leigh Griffiths had seen a penalty saved, and Filip Benkovic had a goal disallowed before the Steelmen struck back but Rodgers said that the team hadn't been at a good enough level.
"Not a very good performance," he said. "A game that we didn't play well in - in particular the first-half.
"We scored a good goal and then didn't take the chance with the penalty and also had a good goal ruled out from Filip Benkovic.
"But still at that stage I wasn't so happy with our positioning and level of our game.
"In the second half our control of the game and positioning was better but we were still too loose.
"Then of course if you don't take chances you are vulnerable at the end of the game.
"But from our perspective it's a poor goal to lose. We didn't win the first ball, the second, the third and he scores from a very narrow angle. It's definitely two points dropped."
Asked if the players had taken the win for granted, he disagreed but suggested that players who had been out of the first team picture hadn't taken their chance to shine.
"I don't think they took it for granted, it was down to concentration," he said.
"And we also had a good goal disallowed and a chance from a penalty. We just made too many mistakes.
"It's good for a manager to see - because players will knock and ask about why they are not playing and it's good for me to see a game like that."
For Motherwell boss Stephen Robinson, the late goal came against the odds and he was delighted to see his team's efforts pay off.
He said: "We lost our captain to a dead leg in the first couple of minutes and when you lose another and they score when you are down to 10 men, you think it's going to be one of those nights.
"But credit to the boys. Mark's save keeps us in the game, and give the ball to Danny in the box and he scores goals."