Rangers: The offensive behaviour of our fans must stop
The Ibrox side will not be requesting tickets for the club's next European away match.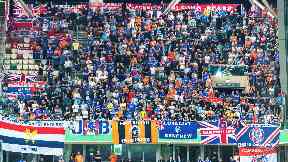 Rangers will not be requesting tickets for the club's next European away match over fears it could be hit with a second round of sanctions for what it calls "the racist behaviour" of its fans.
The club was told to close a section of Ibrox holding at least 3000 seats for its home game against Legia Warsaw on Thursday.
Now the Glasgow side have been hit with a second charge from UEFA for sectarian singing following last week's Europa League play-off match in Poland.
If UEFA rules against the team for a third time, it could be forced to play its next European Home game in front of an empty stadium and the club isn't taking any chances by encouraging fans to travel abroad to see its next match in the competition.
The club said: "Those who wish to sing offensive songs must realise by now that they are insulting Rangers players, staff, and fellow fans.
"There is nothing clever, bold or even defiant in what this small number of supporters are doing.
"By supporting Rangers in the correct way the rest of us must strive to protect our great club.
"One way or another this offensive behaviour must end and it would be much more preferable if we stopped it ourselves, simply by behaving like true Rangers fans."
Rangers shareholders Club 1872 said: "It is clear that UEFA has taken a decision to class sectarian singing in the same bracket as racism and as a result has a clear and rapidly escalating framework of punishments for any club charged with such offences.
"This means that we will quickly arrive at the point where Ibrox may be closed for a home European tie if outbreaks of sporadic sectarian singing continue.
"This will not only affect tens of thousands of our own supporters but also the management team and players, who would have to operate in such circumstances.
"This is particularly frustrating as the atmosphere generated at European games at Ibrox this season has been largely free of such sectarian songs."
Asked about the UEFA ruling for Thursday's night match, Legia Warsaw head coach Aleksandar Vukovic said: "It is only 3000 people. I've seen Braveheart so I'm aware of the Scottish spirit and the noise the Scottish people can make.
"There will still be plenty people in the stadium to make a great atmosphere.
"In Poland at away games we often play tough crowds but no one likes Legia so we are always fighting against it. We are ready for tomorrow and Ibrox and will focus on our game."