The truth behind John Greig's beard and the Cup Winners' Cup
John Greig reveals the story behind his famous beard from Rangers' 1972 Cup Winners Cup glory.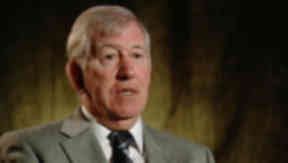 One of the most endearing images behind Rangers' 1972 Cup Winners Cup success was John Greig's trademark beard.
The Rangers captain sported the beard throughout the tournament, shaving it off only when the Cup was safely back at Ibrox.
Now Greig has revealed the true story: that he hated the beard and was dying to shave it off, but was forced to keep it on because of the club's doctor and a rash promise to the press.
The beard had sprung to life on a trip to Largs ahead of the second round match against Sporting Lisbon at Ibrox.
Greig explained: "Big Jock took us out to this grassy patch in front of the hotel looking out towards the water and we were just kicking the ball about and having some fun.
"I ran to get this ball and I didn't see this big old fashioned bench and I came down and hit my chin on the wrought iron handle.
"I must have knocked myself out. I didn't realise, but Colin Stein told me later when he came across I looked as if I had two mouths. My chin had just burst open and my mouth was open. They cleaned me up because there was blood everywhere and took me into Largs and this doctor put nine stitches into my chin."
Bloodied, bruised and concussed, Greig still managed to play the match that night, which Rangers won 3-2.
Greig was obliged to speak to the press afterwards. "Somebody asked "what's wrong with your chin", Greig continued, "I told them what had happened and stupidly I said to them "it was a good luck omen; I think I'll keep this beard on until we get put out of the competition.""
His glib comment was seized upon by the press and so a facial legend was forced into life. Greig kept to his word, even though Rangers players were forced to stay clean shaven beard back in those days.
"I was desperate to get that beard off because I hated it," Greig admitted. But I couldn't shave because the club doctor said I might reopen the cut again."
The cut was given plenty of time to heal as the Ibrox club made their way to the final in Barcelona where they beat Dynamo Moscow 3-2.
"When I got back to Ibrox that day with the Cup they were all saying "get the beard off." I wasn't too pleased about doing it in front of 30,000 people but I think the Daily Record paid me a hundred quid to get it taken off.
"Eventually I got it off on the Friday. The money I got helped me out with razor blades for the next few months anyway."