Unseen Celtic European Cup final photo uncovered
STV documentary <em>The Football Years</em> has discovered a rare picture of Celtic's 1967 European Cup winning side, taken moments before they took to the park.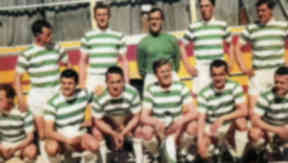 STV's new documentary The Football Years has uncovered a rare and forgotten photograph of Celtic's European Cup winning team of 1967. The picture, showing the team just minutes before they played and defeated Inter Milan 2-1 in the final in Lisbon, was published in French magazine L'Equipe but had been forgotten by the entire team.
The snapshot, capturing the atmosphere and tension felt by the team, was taken between the players leaving the dressing room and heading for the pitch. It has never been seen in Scotland before and the original has since disappeared, with only a photocopy remaining.
Players in the photograph include Billy McNeill, Bobby Lennox and Tommy Gemmell. All three will feature in the first episode of The Football Years - which will focus on 1967 when it airs on Thursday January 7 at 9pm on STV – discussing their memories of the momentous occasion when Celtic became the first British team to win the European trophy.
The Football Years production team sourced the picture thanks to historian Pat Woods and showed it to the ex-team members whilst filming.  Not one of them remembers being positioned for this historic shot to be taken prior to the crucial match.
On seeing the photograph, Bobby Lennox remarked: "I can't remember that. That is amazing." Team mate Tommy Gemmell has no recollection of the photograph at all, commenting: "I don't think I've ever seen that photograph."
Paul Murray, Executive Producer of The Football Years, said: "This photograph captures a moment in time and tells a small part of a story from a significant occasion in football history – but it tells the story so much better than words ever could.
"The fact the team don't remember being lined up and positioned for this special team shot to be taken makes it even more poignant.  I'm thrilled the shot was brought to our attention by Celtic historian Pat Woods for inclusion in this landmark series for STV."
The Football Years will run for six weeks, focusing on six of Scottish football's most memorable seasons. Additional content and extended interviews from each episode is available online at stv.tv/footballyears.
Tommy Gemmell tells the story of Real Madrid v Celtic and how the Hoops beat Alfredo Di Stefano's team.