Scotland's 1967 Wembley win only a triumph for nostalgia
The 3-2 victory over Auld Enemy England in 1967 was far from the inspirational affair it's made out to be, says Ronnie Esplin.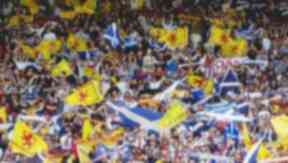 STV's new series, The Football Years, began on Thursday night and indulged Scottish football fans with an always-welcome trip down memory lane. Part one speeded back to 1967 and, among other memorable sporting occasions, Scotland's 3-2 win over England at Wembley.
It is an event which holds a special place in Scottish football folklore, and is reflected upon, as it was in the programme, with dewy-eyed sentimentality. It was a time when our game was undoubtedly at its peak. The Scottish side chosen to face England had in it four Celtic players  - Simpson, Gemmell, Wallace and Lennox - who would help the Parkhead club become the first British side to win the European Cup the following month by beating Inter Milan in Lisbon.
Two Rangers players - John Greig and Ronnie McKinnon - would contest the European Cup Winners' Cup final against Bayern Munich in Nuremberg soon after that. And of course, genuine Scottish greats like Jim Baxter, Denis Law and Billy Bremner were in dark blue for a victory that was extra special because it belonged to the whole nation.
The then World Cup holders showed only one change from the side which beat West Germany 4-2 after extra-time at the same venue to win the Jules Rimet trophy nine months previously - Jimmy Greaves for Roger Hunt - and they had been unbeaten in that period.
And as The Football Years told us, as we have been told so often before, Scotland didn't just beat England, they humiliated them and Baxter was the matador that April afternoon as he taunted John Bull in to demoralised exhaustion.
The clips shown in the programme ticked all the boxes. Law spinning away, finger pointing in the air after giving the visitors the lead, the two other goals from Lennox and Jim McCalliog, Baxter playing keepy-up before flicking the ball over a helpless Nobby Stiles and in to the box and the Scottish fans dancing jigs of delight on the Wembley turf after the game.
It was a day when Scotland showed the Auld Enemy how the game should be played. The truth, though, is far less inspirational.
In a game played at times at walking pace and in relative silence, with not one booking, Scotland beat an England side who played the majority of the game effectively with 10 men. Lanky stopper Jack Charlton was injured after only 15 minutes in a challenge with Lennox and with no substitutes allowed in those days, he was thrown up front simply for nuisance value, hobbling around in comical fashion for the rest of the afternoon.
Indeed, in his autobiography, Greaves claims England had only nine fit men after Ray Wilson was caught by Bremner but although that can be put down to sour grapes by the Spurs legend, there can be no doubt that Charlton's injury changed the whole complexion of the game. Had Scotland been organised enough to play any sort of offside trap then Charlton would have been a hindrance. He could barely walk. As it was, from a static position the former Leeds United defender scored once and was unlucky not to notch at least one other.
In Tommy Gemmell's autobiography, he claimed England were "massively outclassed" and that "Baxter was the main man. I can't remember him misplacing a pass all day." Nonsense.
Baxter had an indifferent game to say the least, missing the target with passes as often as he found them and indeed he might have been sent off in the first half for twice handling the ball, had the modern application of rules applied back then.
Although far from his best, it was Bobby Charlton who was head and shoulders above everyone on the park, especially in the first half. The Manchester United star showed he had it all; power, strength, change of pace, comfortable on either foot, a full range of passing, and carrying a goal threat every time he moved forward.
Baxter was not even the best Scottish player on the day, Wallace, McCalliog, McKinnon and Greig all performing better. Indeed, in his book, Bobby Charlton agreed that Baxter had played better four years previously when 10-man Scotland had won 2-1.
Gemmell's claim that there were no tactics as such is much more credible. Aside from the lack of offside nous on show, the match is so far removed from the modern game as to be almost unrecognisable.
Play is stretched from the first minute until the last. Seconds after kick-off there are three Scotland players in front of Law, who attempts to go straight at the England defence. Nowadays it takes an hour for three Scotland players to get ahead of the ball.
Both teams lined up 4-3-3 but players roamed around the park at will. Law, ostensibly centre forward, plays wide on the right, wide on the left, left-back, right back and all over midfield, sometimes, it seems, in the same move.
There was no real thought given to defending, even by England when they had to reshuffle after the early injury to Charlton senior. Stiles simply dropped back to help out Bobby Moore. For all his reputation as a dour tactician, Sir Alf Ramsay's side went all out to get the win.
Players have acres of space and plenty of time, often allowed to amble over the halfway line untroubled which suited Baxter. There was no 'pressing game,' no tight marking, no hugging and tugging which led to among other things, plenty of free headers in the box.
I read one book on the Scotland international team which claimed there was relentless chanting all afternoon. Again, nonsense. This was not a match played in a constant din, despite around 40,000 Scots (presumably) in the crowd of around 100,000 inside the Empire Stadium.
Occasionally, chants of 'Scotland, Scotland' and 'easy, easy' are heard but there are no songs sung by anyone and indeed, the silence at times is quite disconcerting.
With the advantage of having 11 fit players, there is no surprise that the visitors edge the first half and after 27 minutes Law puts Scotland ahead following a Gordon Banks fumble. The Manchester United player, the most fired-up of all the Scottish players, had missed an open goal minutes earlier after Wallace pounced on hesitancy in the England defence to cut the ball back from the goal line.
A less energetic home side come in to it and Jackie Charlton misses a good chance with a header before Martin Peters heads wide.
The game is still in the balance as the half-time whistle blows and at the start of the second half there is some controversy, when, following a great run by Alan Ball, Jackie Charlton's close range effort looks as if it might have crossed the line. Poor camera work and the lack of replays means the game swiftly moves on.
Bobby Charlton drives over, Peters heads over and Greig pops up to head Jackie Charlton's goal-bound header over the bar. Scotland remain on top but this is no cakewalk.
With 12 minutes remaining, Lennox scores Scotland's second goal and then we get the iconic Baxter moment as he plays keepy-up. It is arguably the most famous piece of footage in Scottish football history and for those few seconds England look on their knees.
Less well known is that moments later, Scotland switch off and allow Jackie Charlton to reduce the deficit. There are six minutes remaining and the finale is hectic. Debutant McCalliog makes it 3-1 with a well-worked goal before Geoff Hurst pulls it back to 3-2 with a header. But there is not enough time for another and there is a huge cheer when the final whistle goes. Both sides line up in the centre circle while a brass band come on to play The National Anthem which is sung loud and proud.
Beating England at Wembley, especially when they are reigning world champions, should always be celebrated. The famous and much-heralded win in 1967 ended a 19-game unbeaten run and it would be silly to say that the victory was not well deserved. And there is no doubt that some of the finest players ever to wear dark blue graced the field that day.
However, what was delivered that day was a bloody nose and not a football lesson. Stripped of hyperbole, mythology and Scottish chauvinism, Scotland beat a 10-man England side in a game which, as always, meant more to the Scots than it did to their hosts.