Ferguson's Scotland return postponed but Boyd and McGregor are back
Craig Levein has spoken with the Birmingham City midfielder but he won't make an instant return to the international scene.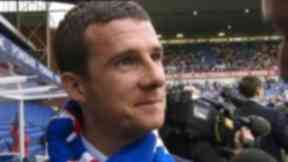 Craig Levein says he held "positive discussions" with exiled Birmingham City midfielder Barry Ferguson over a return to the Scotland fold but says a decision on whether he will make a comeback will not be made until the end of the season.
Rangers pair Kris Boyd and Allan McGregor will make their return at the next possible opportunity, a friendly with Czech Republic on March 3, having held talks with Levein to revive their international careers.
The delay over Ferguson's proposed inclusion in the squad means he won't be included in the team to face the Czechs but he could be back in the Scotland midfield in time for the start of the Euro 2012 qualifiers in September.
Levein had previously stated his desire for the one-time national captain to make his return after being banned by the Scottish Football Association for his involvement in the "boozegate" affair with then Rangers team mate McGregor and said on Friday that he had spoken to the player, without a resolution.
"I've spoken to Barry, I spent two hours with him last week and I've spoken to him on the phone," Levein said. "I would consider both conversations were very positive. The difficulty is the timing of everything.
"You have to appreciate that at the start of the season Barry signed a contract with Birmingham and had nothing else on the horizon. So he has made commitments to his club. Also his wife and kids are staying up in Scotland so he has made commitments on that front.
"We plan to speak further. I have got a good feeling about the discussions we've had."
Boyd and McGregor will be considered for immediate selection for the squad to take on Michal Bilek's side at Hampden and are said to both be happy to make themselves available for Levein's consideration after discussions.
Ferguson's club and former Scotland team mate James McFadden said earlier in the week he wanted the former Rangers midfielder to pull on a dark blue jersey again as soon as possible, adding that the 32-year-old was enjoying a new lease of life at St Andrews.
"Everybody that watches Birmingham can see what a good player Barry is," said McFadden. "In his last year up in Scotland, he was maybe starting to doubt himself a little bit but he has come here and shown everybody exactly how good he is.
"He has been brilliant for Birmingham and a big part of the reason that we've had such a great run. I think he's still got a big contribution to make in the international scene. I think it would be great for the country if Barry did come back in."