Who would you choose in Scotland's greatest football team?
STV's new series, Scotland's Greatest Team, will give football fans the chance to end the age old debate of who would make an all-time Scotland XI.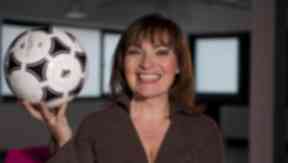 It's the oldest pub debate in football. When two or three fans are gathered together, talk will always turn to who would be in the starting 11 for the greatest Scotland team of all-time? Would any of the current crop earn a place in your line-up. Would the stars of yesteryear dominate? And who would be your dream manager to lead your fantasy XI out into battle?
Now, STV, with the help of The Scottish Sun newspaper, want to bring the debate into the open and determine, once and for all, who exactly the nation would want to wear the starting jersey in their new programme, Scotland's Greatest Team.
Starting on Thursday March 18 at 9pm, STV's brand new series will bring together a host of authorities on the subject, including Graeme Souness, Maurice Johnston, Archie Gemmill, Billy McNeill, Craig Levein, Terry Butcher and Lawrie Reilly to name but a few, to debate who is worthy of having their name pinned up on the board in a world-beating Scotland team.
The final decision rests with you, the viewer, with football fans nationwide invited to vote weekly from a shortlist, narrowed down to players who have been capped by Scotland between January 1 1967 and the present day, for each position. The series host, Tony Roper, will then reveal who the public have chosen in a special reveal show on April 22.
Week on week, guest presenters Sanjeev Kohli, Lorraine Kelly, Kelly Dalglish and John Gordon Sinclair will profile the contenders for a place in the 4-4-2 formation. Respectively, they will build from the front, taking a look in order at Scotland's top strikers, midfielders, defenders and then goalkeepers and managers in the fourth week.
After each show, STV viewers will be able to visit the show's website, stv.tv/greatestteam, and choose who they would want in their line-up, saving their choices week-on-week until they have built up a team. Voting will remain open and viewers can change their team selection anytime before midnight on Thursday April 15.
The nominees in each programme were selected by an independent judging panel, chaired by current SFA chief executive Gordon Smith. The panel consisted of former Scotland international David Hay, Kilmarnock manager Jimmy Calderwood, writer and broadcaster Archie Macpherson, author William McIlvanney, the Scottish Sun's head of sport, Iain King and Richard McBrearty, curator of the Scottish Football Museum.
Lorraine Kelly, who will present the case for the 10 midfielders vying for the four positions in the team, said she would also be chipping in with her own vote and would be pressing for some of the legendary players from her beloved Dundee United to make the cut.
"I'm a big football fan so I jumped at the chance to get involved with this new series and I'll definitely be going online to add my vote," said Lorraine. "This is every football fan's opportunity to pick Scotland's greatest ever football team, I just hope some Dundee United players make the final cut!"
Series producer Brendan O'Hara, who also produced recent STV success The Football Years, is looking forward to seeing the varied choices football fans will make in their team choices. "This isn't a popularity contest and we're not asking viewers who were the best eleven players," he said. "Rather we want viewers to use their football knowledge to pick the eleven players in a 4-4-2 formation that they believe would combine to make up the best Scotland team, as well as the manager that they believe would best harness that enormous talent.  I can't wait to see the result."
Elizabeth Partyka, STV's channel controller, added: "Scotland is a nation of football fans and following the enormous success of our hit series, The Football Years, we know there is an appetite for programming of this kind.  I'm sure we'll spark a bit of debate around the final cut and we very much hope that viewers across the country will watch and participate as we seek to build Scotland's Greatest Team."