Jamie Smith: How did I end up playing in America?
I've swapped playing in Dundee, Motherwell and Paisley for New York, Los Angeles and Denver. Not a bad move, all things considered.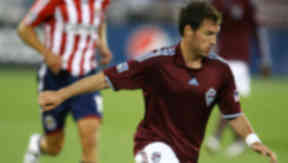 Hello, my name is Jamie Smith. As you might remember, I played in Scotland with Celtic and then Aberdeen up until the summer of 2009. Now, I'm playing for Colorado Rapids in America's Major League Soccer, preparing for my first full season after moving here in the middle of the last campaign in May last year.
That summer of '09 was spent with the constant feeling of uncertainty and with lots of question marks spinning around my head. What was next? Where was next? I had played for Aberdeen for four years, my family loved living there and I have so many great memories and friends from my time in the north east. But as someone once said, 'all good things must come to an end'. It was difficult to leave but having to move is a part of football that most players will have to face at some point or another in their careers.
I had heard some rumours of different teams being interested in signing me but nothing seemed to materialise. That was until I received a call from my agent, saying that he had spoken to Steve Guppy, who coached the Colorado Rapids in the MLS. It was a surprise and my initial thought was that it was too far away, especially for my family. It wasn't the direction I saw my career heading in either.
After some long discussions with my wife and my agent, I decided that it was an avenue that I had to explore. So I packed my football boots and a toothbrush and boarded a flight to Denver.
I arrived here on a wet evening at the end of June 2009. 'Denver doesn't get much rainfall', I was told. So you can imagine my mood when on landing, having travelled 15 hours and feeling full of excitement at the prospect of a new city, stepping off the plane to good old Scottish drizzle. My heart sunk. But I waited at the pick-up point for my lift and, after five minutes, an old friend pulled up and came out to greet me.
 
I played with Steve Guppy for five years at Celtic and during that time we struck up a good friendship both on and off the field. Gupps was one of the older players in the Celtic team who had a wealth of experience playing in the English Premier League. He was not only friendly with the younger players but was very quick to give advice and stay back after training to help us develop our skills. As any player will tell you, this help and guidance from a senior pro is so valuable.
After a good sleep and an American breakfast, I went to the Rapids' stadium, named Dick's Sporting Goods Park, met with the team and staff and took part in a light training session. With the MLS season halfway through, I was playing catch-up in order to attain the same fitness levels as the rest of the players. But Denver is at an elevation of 5280 feet, almost 1,000 feet higher than Ben Nevis. On that first day, I thought my heart was going to explode through my chest - and that was just from the warm up.
 
The head coach, Gary Smith, told me that he wanted to play me as soon as possible. So for the next two weeks, I went through a tough training schedule which consisted of double sessions in 95 degree heat. After that, I was ready to play anywhere.
Going back to that wet evening in June, the rain clouds cleared and the evening sun, setting behind the Rockies, gave off some warmth. My mood changed and that optimism of being somewhere new and exciting returned.
For a player like myself making the move to a new club, and particularly to a new league, the idea that the standard would be different is something which played on my mind. Will it be better? Will be worse? As I found out, it was easy to adapt in almost every aspect of the transition.
The standard of football in the MLS is very good. Most of the players are technically gifted and all are very fit and strong. The only real difference is the altitude and the heat. Because of this, the speed of play is not as frantic as the SPL, with more emphasis on passing and build-up play.
Football in the States is growing. That is obvious to anyone who takes an interest in world football. The US national team have qualified for the last five World Cups and the country are preparing a bid to host the 2018 tournament.
 
The league in the States is structured very differently from any other that I know. The teams in the league fight for that elusive play-off place. The regular season runs from March to October, with the play-offs being played from the end of October, through to mid-November. It isn't unusual for US sports to set up their respective leagues this way but, to the outsider, it does take some getting use to.
Looking back to June last year, I feel that I have made the right move by opting to play soccer 'stateside'. America is a huge country with such a diverse culture and it is hard not to enjoy living here. Away games are played in the cities of New York and Chicago among others and most games are in the evenings as its too hot for 3pm kick-offs. It is very rewarding to play in the MLS but if I were to be honest, I wouldn't swap Scotland for any other country.
For the time being however, I am relishing the prospect of a new MLS season, bowling green pitches, visits to all the great American cities, baseball, swimming pools and barbecues in the summer and cold, snow covered landscapes in the winter. And, of course, the 'good old US of A' thumping England in the World Cup.
Jamie Smith will be contributing regular blogs throughout the MLS season on stv.tv/sport. If you have a question for Jamie, please feel free to comment on this blog by using the comment box below.