An ode to Beckham? What about a verse for Keane, Boyd or McGhee?
David Beckham's World Cup ending Achilles injury has been honoured by the poet laureate, Carol Ann Duffy. Enough of that, what about paying tribute to Scotland's sporting icons?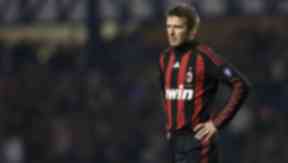 With the poet laureate, Carol Ann Duffy, honouring England's fallen football hero David Beckham with a specially penned poem for the once possible World Cup fringe player, it's fair to say that our own sporting idols aren't honoured enough in verse.
Ever since former Dunfermline Athletic and Livingston manager Jim Leishman stopped giving readings of his finest ditties to the press, the game's been devoid of literary genius.
Well enough of that. It's time for the creative minds of Scottish sports fans to go one better than Duffy and immortalise their favourites. Or, failing that, come up with some better alternatives to Beckham's ode.
We've came up with a few lines to get the ball rolling that you can use in your creations but feel free to come up with your own. Whether they are five line limericks or full-blown sonnets, you can leave your contributions by using the comment box below.
There was a wee striker called Keane…
Wee, sleekit, cowrin, tim'rous Mowbray…
How do I love thee? Let me count Boyd's goals…
In case you've missed it, here is an excerpt from Carol Ann Duffy's Achilles (for David Beckham).
But when Odysseus came, with an athlete's build, a sword and a shield, he followed him to the battlefield, the crowd's roar,
And it was sport, not war, his charmed foot on the ball...
But then his heel, his heel, his heel...