Snow way through for Queen's Park team and referee
After a match at Elgin City on Tuesday night, the Third Division side and official John Beaton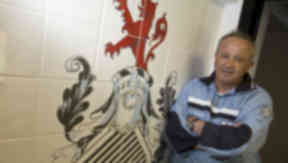 The Queen's Park team and referee John Beaton have both endured a miserable night after getting stuck at snow gates on their way back from a match at Elgin City. Both were stuck on the A9 south of Aviemore at around half 11 on Tuesday night as wintry weather descended on their route back from Borough Briggs, leaving them stranded overnight.
Queens had just picked up a 1-0 win at the bottom club, lifting them back up into the play-off spaces in the Third Division with just six games left to play.
But their joy was short lived as police closed their road home, leaving players and staff, most of who had full-time jobs to be at on Wednesday morning, stuck for the night.
Their miserable journey home may be compounded even further after taking police advice to head back, with the coach taking those on board to Aviemore. With snow still persisting there, it seems unlikely they will return to Glasgow at least until this afternoon.
Lanarkshire-based ref Beaton was also amongst the unfortunate travellerscaught up in the weather. The Category One official was posted to the match and decided to spend the night in his car instead of turning back, before being moved on at 9am to begin his journey back after nine and a half hours.
"We were stuck there and we couldn't move forward or back," Beaton told STV Sport. "We were advised to go back if we could, which Queen's Park did, but the conditions were so bad I decided to stay put.
"The weather at the game was fine and there was no snow in Elgin or in the Inverness area, it was just on the road home that it all changed.
"I was supposed to be in work at quarter to nine but it will be probably be midday before I make it. It's just one of those things."
Five fixtures in the Scottish Football League fell foul of the inclement weather on Tuesday night, with a sixth between Cowdenbeath and Stirling Albion abandoned due to heavy snow after just 18 minutes.