Jamie Smith: A spell on the sidelines hasn't been so bad after all
Colorado Rapids picked up four points without me at the start of the new MLS season and there's a superstar now amongst our ranks.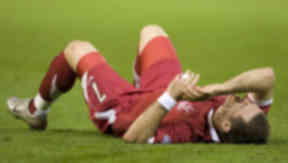 The main news in the soccer world these past few weeks has been David Beckham's injury. Images of this iconic footballer hopping off the San Siro field have been shown on TV stations around the globe, and of course across America, and it is not surprising why.
Arguably the most famous footballer of our generation, David Beckham was preparing for this year's World Cup when, in what seemed a very innocuous incident, he ruptured his Achilles tendon, ending his dream of playing in what would be his last dance on the greatest stage in world soccer.
Wayne Rooney is another super-famous player who has been faced with some post-injury media attention. Again, after what seemed a minor collision with a Bayern Munich player during the first leg of Manchester United's Champions League quarter final, Rooney twisted his ankle and was immediately substituted. Worries over the extent of the injury before the stated World Cup campaign had journalists excitedly penning their next reports.
What didn't make the papers though was the breaking news story that Jamie Smith of the Colorado Rapids had a slight hamstring strain and would be in doubt for the MLS season opener against Chivas USA in Los Angeles!
Ask any professional footballer and they will tell you that being injured can be an incredibly frustrating time. And if there is ever a time when I hate being injured, it is at the start of a new season. You spend nine weeks of exhausting training, the focus always being on the season opener, and then the week before the big day you get an injury.
As it turned out I didn't make the trip to southern California and instead remained in Denver to work with our strength and conditioning coach, John Ireland.
 
John is excellent to work with, especially on a one-to-one basis. We concentrated on strengthening my hamstring, with John taking me through a series of exercises from his impressive repertoire. After the training sessions I felt in good spirits, my injury was improving and the team had an excellent 1-0 away win to start the new season.
My focus for the following week was to try and be fit for our second match, the home opener against Chicago. In American sport, whether its baseball, basketball or American football, a huge emphasis is put on the home opener. With soccer it's no different, so the week leading up to the Chicago game was as busy off the field as it was on.
The Rapids' marketing department had set up a huge promotional drive to create as much interest in the match as possible and so, for the whole week, each of the players had to make appearances at various community events and projects.
I went with three other players to a rehabilitation clinic to visit some of the patients. It was such a great event, where we had the chance to interact with some really lovely people. Most of the patients were recovering from serious injuries and illnesses and to see the care and attention they were receiving and the way in which they were so dedicated to making a full recovery, was incredible.
I continued to train with the team but as the week progressed it was clear to me that the injury wasn't improving quickly enough and come Thursday I made the decision that I wouldn't be available for selection. I'd be lying if I said that I wasn't annoyed but I knew that I had to try and keep in good spirits and that was made easy when I turned up for training on Friday morning.
Coming in, I found sitting at the locker next to mine was none other than ex Lazio, Valencia and Argentina striker and legend, Claudio Lopez. Here is a player who I have admired for years, sitting in the Rapids locker room next to me. To say it was surreal is an understatement.
Claudio, we are on first name terms now you see, played for Valencia for four years before making a 35 million euro transfer to Lazio, where he played for a further four years, scoring some wonderful goals and playing alongside some of the world's best players.
So it is fair to say the whole week had its ups and downs. My injury was obviously very frustrating but the team had a 2-2 draw against a very strong Chicago side, who hosted ex-Fulham strike partners, Brian McBride and Collins John. After the game the frustration at not winning was clear on the faces of the players and I guess that speaks volumes regarding the expectation level within the squad.
I trained with Claudio Lopez for the next couple of days and immediately we struck up a good relationship and he seems a very nice guy, not to mention the experience and finesse he brings to our attacking lineup. But last week will be especially remembered for the visit to the rehab clinic.
Spending time with the people involved at the clinic has made me realise how thankful I should be for my health and that having an injury which keeps me off the football field isn't actually as bad as I sometimes think.
I hope to be fit and ready for our game against the Kansas City Wizards this coming weekend but you know what, if I don't make it, it really isn't that bad.
I was really inspired by the commitment shown by the staff at the clinic, actively helping people in need. The patients themselves were quite remarkable people and it has been a blessing that I had the opportunity to meet with them all.