Smith quits as SFA chief executive
The former Rangers, Brighton and Kilmarnock player, who took over Scottish football's top job in 2007, has resigned from his post.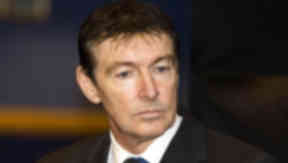 **Gordon Smith has resigned his post as the chief executive of the Scottish Football Association. **
Smith, 55, took over the role in 2007 from David Taylor but has left his post for what is being described initially as personal reasons.
Pressure had been mounting on Smith from Third Division champions Livingston for his role in putting Robbie Winters in the dock for an alleged dive in a match against East Stirlingshire in February. Livi claim it was Smith, who was in attendance at the fixture, who went over the head of referee John Beaton to refer Winters to the SFA's disciplinary committee.
The case against Winters was thrown out within 15 minutes when it was heard last week, leading to Livi chairman Gordon McDougall calling for Smith to be called into account for bypassing his own organisation's rules to try and punish the former Aberdeen striker. Winters was on the end of a tackle from Michael Bolochoweckyj, for which the Shire player was sent off for.
A short statement from the SFA on Monday evening read simply: "The Scottish FA can confirm that Gordon Smith has resigned from his post as Chief Executive. A further statement will be issued tomorrow."
Former First Minister Henry McLeish is preparing to release his recommendations to overhaul Scottish football after a year long study and there are also suggestions that the findings of McLeish, and the pressure to implement change throughout the game, may have influenced his decision to quit.
Smith was also publicly embarrassed by the chief executive of the Scottish Premier League, Neil Doncaster, for his refusal to accept that change could be made to the appeals system for red cards. Smith had cited Fifa rules which state 'the decision of the referee is final'.
But Doncaster dismissed that argument, saying Fifa rules instead allowed for referees to be removed from the appeals process.
Article 77 of Fifa's disciplinary code allows for "rectifying obvious errors in the referee's disciplinary decisions", a law which applies to both Fifa and national associations that wish to implement the system, a fact that Smith omitted from his arguments.
GORDON SMITH QUITS